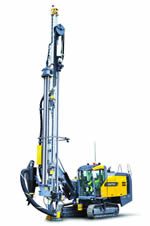 The SmartROC D65 surface drill rig from Atlas Copco has been upgraded to enable direct communication with the rig's control system. This includes transferring drill plans to the rig and receiving drilling data log files.
When the surface drill rig SmartROC D65 was launched in 2010 it was immediately recognised for its power and productivity, which is considerable, but also for its intelligence and communications capability provided by its unique, computer-based Rig Control System (RCS).
At that time, drill plans prepared in the mine or quarry offices were installed into the rig's control system via a USB memory stick. Now the SmartROC designers have enabled the rig to download this data directly via the worksite's own local area network (LAN) or wireless network (WLAN).
[pull_quote_center]"This is an ethernet application module for SmartROC D65 rigs working in a fixed installation in mines and larger stone quarries, "explains Olav Kvist, Product Line Manager at the company's Surface Drilling Equipment division.[/pull_quote_center]
The new interface not only makes data transfer simpler and faster. It is also more user-friendly as it allows planners to easily make changes and last minute adjustments.
[quote_box_center]In addition, Kvist points out, "It paves the way for mines and quarries to install wireless systems and also offers SmartROC D65 owner-contractors a competitive advantage in that they can "plug" straight into their customers networks".[/quote_box_center]
The application was developed by Atlas Copco during the summer 2011 and has been test-run in Australia with excellent results.
SmartROC D65 shares its intelligent platform with all rigs in the SmartROC family, including the Atlas Copco PitViper series. The rig with communication standard is all based on the International Rock Excavation Data Exchange Standard (IREDES) enabling total management and operation control.
Atlas Copco is an industrial group with world-leading positions in compressors, expanders and air treatment systems, construction and mining equipment, power tools and assembly systems. With innovative products and services, Atlas Copco delivers solutions for sustainable productivity.
The company was founded in 1873, is based in Stockholm, Sweden, and has a global reach spanning more than 170 countries. In 2010, Atlas Copco had about 33 000 employees and revenues of BSEK 70 (BEUR 7.3). Learn more at www.atlascopco.com.
Atlas Copco's Construction and Mining Technique business area develops, manufactures, markets and services rock drilling tools, construction and demolition tools, mobile crushers and screeners, drill rigs and equipment.
It innovates for superior productivity in surface and underground rock excavation, exploration drilling, rock reinforcement, ground engineering, water well, oil and gas drilling, and compaction and paving equipment worldwide.
The business area has its principal product development and main manufacturing units in Sweden and the United States. More information is available on www.atlascopco.com.
Atlas Copco Surface Drilling Equipment is a division within Atlas Copco's Mining and Rock Excavation Technique business area. It develops, manufactures, and markets rock drilling equipment and mobile crushers and screeners for various applications in civil engineering, quarries and open pit mines worldwide.
The division focuses strongly on innovative product design and aftermarket support systems, which give added customer value. The divisional headquarters and main production center is in Örebro, Sweden.
Atlas Copco South Africa Pty Ltd Visitors address: Telephone: +27 11 821 9000
P O Box 14110 WItfield Hughes Business Park Telefax: +27 11 821 9106
Boksburg, South Africa 1467 Saligna St, Witfield