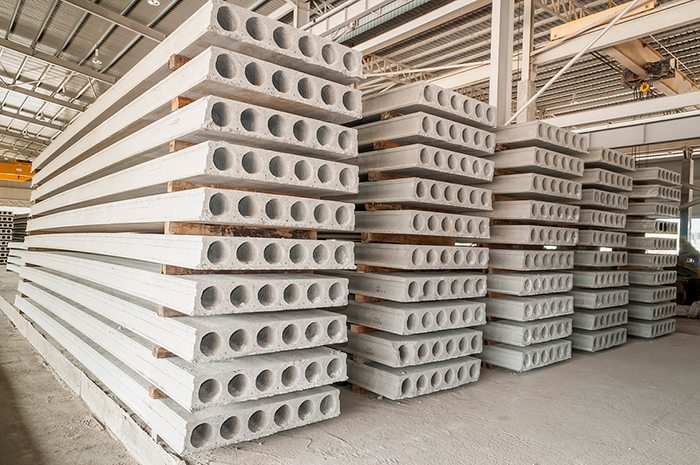 By Emmanuel Onsomu
Precast concrete products are construction products produced by casting concrete in a reusable mold or form, cured in a controlled environment, transported to the construction site and lifted into place. Dissimilarly, standard concrete is poured into site-specific forms and cured on site.
Precast concrete products can be said to be of better quality because precast concrete is produced in a controlled environment; it is thus afforded the opportunity to properly cure while being closely monitored by plant employees.
Other benefits of utilizing a precast concrete system stem from the fact that the production process for precast concrete is performed on ground level, aiding with safety throughout a project and financially, the forms used in a precast plant may be reused hundreds to thousands of times before they have to be replaced, allowing for cost of formwork per unit to be lower than for site-cast production.
The use of precast concrete in construction is now widely regarded as an economic, durable, structurally sound, fire resistant and aesthetically superior form of construction.
Versatility in Design
Where precast concrete products are both functional and decorative, Sarah Bachmann of the National Precast Concrete Association Australia (NPCAA) tells of new techniques being used by precasters around Australia that are adding value to traditional grey wall panels.
She recognises that over the last 10 years the increased availability and application of form liners to create patterns, and stains as a no maintenance 25-year alternative to a painted finish, has provided designers with a vastly increased array of textures and patterns.
Adding to this is an extensive list of options in the form of traditional architectural possibilities, such as purpose built moulds, etched, grit (sand) blasted, exposed aggregate, polished and honed finishes are also available, as is integral colouring using pigments. And all of these finishes can be applied in the factory. Essentially one can only be limited by their imagination.
Still on the subject of design, NPCAA also puts into perspective that on any total precast structure there are a number of critical design features that have to be addressed at the outset, including ceiling heights, load bearing walls, accommodation of lift boxes and some of the unique façade elements, in particular balconies.
Once it is determined that the quality, safety and other requirements around these meet the brief, the design team in conjunction with the precaster is in a position to fine tune. The rest of the design refinement is centred around those issues. The essential requirement for any total precast project is to allow adequate lead time to allow such refinement.
Interior design flexibility is provided by long span precast concrete flooring systems that help building owners adapt to changing client needs in future years. Precast flooring systems can span up to 17 metres to minimise the need for interior columns required with in-situ systems. Precast also provides high loading capacity at little added cost.
The Green Factor
The manufacturing process for precast concrete uses less energy than comparable components, with less noise and air pollution and debris on site. Otherwise put, concrete is nontoxic, environmentally safe and composed of natural materials. Precast concrete products help to convey water without contributing to poor water quality.
In line with this global trend towards environmental preservation is Los Angeles based Artisan Precast, manufacturers of precast concrete fencing and barrier solutions. Artisan applies eco-friendly standards across all production phases, from manufacturing to installation. The result is a line of precast concrete products crafted to meet or exceed green building guidelines. In addition to manufacturing their molds using VOC- and mercury-free polymers, the company's fence component system is customized for each project to ensure minimal waste at the job site—which in turn helps preserve the landfills and cuts down on dumping costs. Pallets are recycled.
Artisan also uses water-based agents in the manufacturing process. Further color integrated into the concrete mix means the products need no painting or staining, which again avoids VOC release into the environment. The color has a fade rate of less than 2% over 10 years, which means virtually zero painting maintenance. The molded precast concrete fencing is erected using a component system, making replacement and repair simple and easy—and using less fuel and material than traditional building methods.
And unlike wood products, Artisan's barriers require no preservatives to prevent rotting or termite damage. And no trees are destroyed to create an Artisan fence. Artisan Precast fencing is much more lightweight than the equivalent brick, stone, CMU, or monolithic concrete panel needed to perform the same function. Thus fewer fossil fuels are consumed transporting materials to the job site.
In Australia energy efficiency is being achieved through precast walling and flooring. Precast concrete sandwich panel systems are providing a sensible solution to meet the requirements of Section J in the country's Building Code. Insulation is sandwiched between an inner structural concrete layer and an external concrete layer and the three layers are held together by non-conductive connectors. The system offers the benefits of off-site manufacture, durability, fire resistance and thermal efficiency.  When designed well, a building can significantly lower its heating and cooling requirements by incorporating sandwich panels into its construction.
In the case of flooring, hot or cold air is passed through the cores of high-thermal-mass hollowcore flooring and achieves high standards of year-round comfort with very low annual energy and maintenance requirements.
Energy Efficiency
Precast concrete's high thermal mass reduces heating and cooling.
Leading producer of architectural and structural wall panels, High Concrete Group's CarbonCast® line of C-GRID® carbon fiber reinforced precast are lightweight and thermally efficient. CarbonCast carbon fiber reinforcement takes the place of mild steel, reducing the weight of architectural facade systems by 50 percent or more. Higher in strength and thermally non-conductive, the patented C-GRID® mesh provides improved durability and permits insulation values up to steady-state R-13.
Because carbon fiber won't rust, CarbonCast panels only need thicker concrete cover to accommodate reveals or other surface treatments. Much of the panel thickness is filled instead with foam insulation. A CarbonCast panel with 1″ of foam factory- or field-laminated on the back side can deliver a wall assembly that substantially exceeds the minimum R-value for continuous insulation as defined by ASHRAE 90.1.
In addition, the assembly will serve as a non-permeable vapor retarder as defined by IBC 2003. Air leakage concerns are virtually eliminated because the temperature in the wall cavity behind the drywall will be nearly the same as the temperature in the room.
Thermally-efficient CarbonCast panels contain insulating foam that provides R-values of 13 to 30. This energy-efficient treatment can lower energy costs and contribute to LEED certification.
Efficient and Safe Erection Speeds
Efficient erection is a major advantage of precast concrete; weather conditions at the job site will not significantly affect the construction schedule and precast concrete products arrive at the job site ready to install, which can save weeks over cast-in-place construction. Granted precast concrete elements are fabricated in precast factories under quality controlled conditions using high quality materials, designs more exactly meet specifications reducing field adjustments and creating a smooth erection process with minimal surprises.
Precast reduces the need for skilled labor on site and decreases the footprint. There is no need to order raw materials such as reinforcing steel and concrete, and no time wasted setting up forms, placing reinforcement, pouring concrete and waiting for concrete to cure.
Although precast concrete is quite heavy, nearly all other competing materials require machinery for handling and installation as well. Speed of installation is more dependent on excavation than product handling and placement. Unlike other materials such as fiberglass, precast concrete does not require the use of special rigging (such as fabric slings) to avoid structural damage.
The use of precast concrete for a construction project also means improved safety because the construction site is less cluttered.
Low Cost and Staying Power
The reduced time on site during the installation of precast concrete as well as reduced propping and scaffolding costs, lower site labour costs and lower materials storage costs make for a lower overall cost when using this type of material.
The National Precast Concrete Association in America refers that studies have shown that precast concrete products can provide a service life in excess of 100 years. For severe service conditions, additional design options are available which can extend the life of the precast concrete product. This is extremely important when calculating life-cycle costs for a project.
Precast concrete also resists most substances. While no material is completely immune to attack from aggressive chemical agents, precast products can often be designed to resist corrosion in specific applications.
The Cement Manufacturers Association of South Africa (CMA) cites an initiative that is making use of precast concrete's lower total costs; the use of concrete block paving (CBP) in spearheading a poverty alleviation and road resurfacing project in George. The local municipality is resurfacing its deteriorating low-trafficked suburban asphalt roads as well as some gravel roads with CBP in all residential areas.
This ongoing project began in 2001 and since then some 53km of roads at an average width of five metres have been resurfaced with CBP. In addition, 49km of pavements 1.5m wide have been surfaced with CBP. The project also includes a small percentage of roads and parking areas in the CBD as well as some servitudes and footpaths.
Jacques Quinot, senior manager streets and stormwater of the George Municipality indicates that the main motivation for choosing CBP as opposed to asphalt is cost and job creation. He elaborates that CBP surfacing is more cost-effective in that it allows for the rebuilding of roads using some of the existing material as opposed to relaying them completely which is what the asphalt option would require.
All the work is being done entirely by local people as part of a poverty alleviation project.
"Although we have no official figures to hand, we have made significant savings due to the low- maintenance requirement of CBP roads. So far all we've had to do is spray weed killer on the surface of the roads and pavements," says Quinot.
The road-resurfacing process involves removing the asphalt and then, where necessary, replacing it with fresh G5-7 aggregate. This is followed by a layer of bedding sand and 60mm interlocking paving blocks which are being supplied by a Concrete Manufacturers Association (CMA) member, Mobicast, as well as some other local manufacturers. The pavements are being surfaced with 50mm bevel pavers.
CMA director, Hamish Laing, says this is another example of the win-win attributes of CBP, providing a cost-effective road surfacing solution, creating employment and skilling the unskilled.
Besides its labour-intensive and job creation attributes, CBP, he notes, is proving to be a very durable and aesthetically appealing road surfacing material in many parts of the country. This is particularly so in areas where CBP enhances visual appeal, such as in small towns, suburban areas, shopping centres, office car parks, residential paths and driveways. "The type of CBP roads being laid in George should have a lifespan of at least 30 years. Furthermore, CBP roads can be maintained and repaired by the local community, using skills developed during the construction period," concludes Laing.
Fire, Chemical and Disaster Resistant
Not only is precast concrete non-combustible but it exhibits superior performance in all disasters. This is a great quality where other materials are flammable or do not perform well in elevated temperatures. Also note worthy is that it does not lose its structural capacity as quickly as steel. Precast concrete is resistant to most substances and precast concrete products can be designed to withstand anticipated corrosive agents.
Watertightness and Buoyancy
Precast concrete products produced in a quality-controlled environment and used with high quality sealants offer a superior solution to watertightness requirements. Standard watertight sealants are specially formulated to adhere to precast concrete, making watertight multiple-seam precast concrete structures possible.
With a specific gravity of 2.40, precast concrete products resist the buoyant forces associated with below-grade construction.
Activating the Precast Advantage
Importantly, the positives of building with precast concrete are conditional to a good working relationship between client, designer and contractor. To begin, the precast manufacturer should be involved at the earliest opportunity.
The three parties should also work toward maintaining good liaison. Reasonable time must be provided for the production of workshop drawings, mould manufacture and production and adequate advice given as regards, deliveries to site; types of units, numbers and dates. The provision and maintenance of access for the delivery of goods is the last crucial tenet.
Cement is a binder, a substance that sets and hardens independently, and can bind other materials together. Cement used in construction is characterized as hydraulic or non-hydraulic. Hydraulic cements harden because of hydration, chemical reactions that occur independently of the mixture's water content; they can harden even underwater or when constantly exposed to wet weather.
The chemical reaction that results when the anhydrous cement powder is mixed with water produces hydrates that are not water-soluble. Non-hydraulic cements on the other hand must be kept dry in order to retain their strength.
There are major companies that deal with concrete products and supply their clients with tailor made products and services. The application of technology has enabled such companies to modernize their products thus giving the market quality assured products that come in handy to fulfill the demand and the needs of their clients.
List of Contributors
National Precast Concrete Association Australia
Sarah Bachmann
Executive Officer
Email: [email protected]
Website: www.nationalprecast.com.au
National Precast Concrete Association America
Bob Whitmore
NPCA Communication Director
Email: [email protected]
Website: www.precast.org
Artisan Precast, Inc.
Craig S. Lewis
Email: [email protected]
Website: www.artisanprecast.com
Concrete Manufacturers Association
David Beer
Email: [email protected]
High Concrete Group LLC
Gary Reed
E-Mail: [email protected]
Website: www.highconcrete.com
Concrete Equipment
Jaap van der Westhuizen
[email protected]
Humes
Wondurack
[email protected]
Echo floors
Connie Rodrigues-Erasmus
[email protected]
Coreslab
Jaco de Bruin
[email protected]
Quickstepstair
Carine Hennig
[email protected]