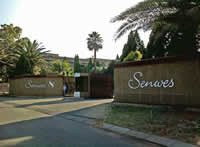 After 25 years, Senwes Head Office in Klerksdorp replaced their aging water cooled chiller air conditioning system with the Mitsubishi Electric City Multi VRF air conditioning system.
Mitsubishi Electric Air conditioners (MSA) have established themselves as a world class brand by introducing the City Multi product as a sub-brand to the Mitsubishi Electric family of air conditioning equipment. The City Multi product has been well received internationally and has found phenomenal success here in Southern Africa.
The main feature of the product is its high energy saving capability, consuming up to 40% less electrical energy than a typical constant volume air conditioning system available today. This efficiency  is achieved using inverter technology throughout the system combined with simultaneous heat recovery.
The brief to MSA was to offer a cost effective air conditioning system that will essentially minimise Senwes' monthly electrical consumption, maintaining the same level of comfort.
The 19 800m² floor area was fitted with the system that comprised: 243 indoor units (evaporators) and 23 outdoor units (condensers); with an outdoor capacity of 1381.5kW and an indoor capacity of 1721kW.
The advantage with inverter technology combined with heat recovery is that the indoor total capacity and outdoor capacity do not need to be the same.
In some cases the indoor capacity can be 50% greater than the outdoor capacity. The system will move capacity around the building where it is needed making the system very efficient and reducing the overall electrical load.
To test the effectiveness of Mitsubishi's VRF system assertions – Over several years, Senwes recorded electrical and water consumption data from the chilled water system initially installed. This allowed for a direct comparison between the two systems.
The results concluded that the decision to use the Mitsubishi Electric VRF System was correct. Savings of 50% have been recorded by Senwes and in addition significant savings on their water consumption up to 60% during peak load months.
A significant advantage of this system is its simplicity and flexibility. The City Multi VRF is light and can easily be maneuvered into position the connection between indoor and outdoor is simple, using light copper piping components resulting in lower labour hours and ultimate lower over-all Installation costs.
The ability for this system to heat, cool and heat water off one system simultaneously is unique to the air conditioning industry.
For more information on this project, contact MSA on 011 830 2080 or email [email protected]">[email protected]
Contact Lerato Maloka on 011 333 0191 or email her on [email protected]">[email protected]ard.com