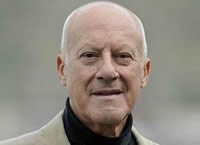 Lord Foster has today been made Doctor Honoris Causa by UPM, the Universidad Politécnica de Madrid. The event was chaired by the rector of the university, Javier Uceda, with a laudation by UPM professor, Luis Fernández-Galiano.
Delivering a short lecture at the ceremony entitled 'Constancy and Change', Lord Foster advocated a holistic approach to the design of infrastructure and individual buildings, both in retrofitting existing cities and in establishing future communities.
He stressed the value of investing in education, citing the encouragement he received as a student to pursue his interest in the relationship between architecture, transport and civic space.
Looking at the emergence of cities around the world, he highlighted the development of high-tech industries in China, the growing market for renewable technologies and the lessons we can draw from their bold and comprehensive approach to infrastructure development.