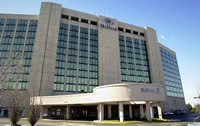 Hilton Worldwide, owners of chains of luxury hotels across the world, has disclosed that it is looking at partnering with Transnational Corporation Plc (Transcorp) to develop eight new luxury hotel facilities across Nigerian cities within seven years.
The Area President, Middle East and Africa at Hilton Worldwide, Mr. Rudi Jagersbacher, said that the hotel plans to build at least two of its brands in Lagos and some more in select cities across Nigeria.
Addressing the media in Abuja, Jagersbacher who was on a recent visit to Nigeria stated that; Hilton had identified Africa and Asia as a potential growth region, hence, its desire to invest considerably in the continents growing economy.