Multiquip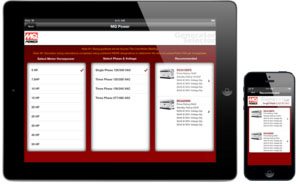 , a diverse manufacturer and supplier of world class quality products and solutions, is proud to announce the release its first mobile consumer application (app) – MQ POWER Generator Selector – as part of its overall Mobilize MQ initiative.
The MQ POWER Generator Selector app helps customers select the right MQ Power generator to meet their specific power needs. It eliminates the need for charts, calculations and guesswork, while providing quick and simple answers to complex generator sizing questions. The app is free to download and easy to use.
"At Multiquip, we understand the power and convenience mobile applications bring to equipment users with the freedom to access valuable and helpful information anytime, anywhere," said Michael Hanken, vice-president of IT, Multiquip. "Offering great service for the benefit of our industry is one of our core beliefs. We see Multiquip as the leader when it comes to power and construction industry mobile applications."
The new app concludes with a form that allows customers to get directly in touch with Multiquip's power specialists, who will further customize a solution and assist in selecting the appropriate MQ Power generator.
The app is available for iPad, iPhone and Android devices.