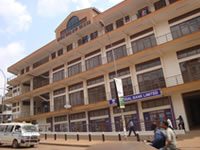 An ideal stopover for shoppers
Shopping malls have become an integral part of human existence. People flock to them after work and over the weekends, to get some retail therapy, to get something to eat or to catch a movie.
Because they are so busy their designs are handled by professional architectural firms.
This is because they need carefully planned parking lots and space conscious entrances and exits.
The building needs to be resilient and be able to stand forever. It's on this paradigm that Mukwano Enterprises the developer of Mukwano Mall the latest retail and wholesale development, located in the North East of Kampala on Rashid Khamis – Kyagwe road, contracted Shelter Plan Associates to design and oversee the safe construction of the mall.
In conjunction with Krishna Construction Company, a leading Civil Engineer and Contractor in Uganda, Shelter Plan Associates has been able to deliver a high quality project with architectural beauty and efficiency, at high standards without overshooting the budget and within the agreed time frame.
Location
Mukwano Mall is located within Kampala City on plot 23-31 at the intersection of Rashid Khamis road and Kyaggwe road. It is a few meters from the new taxi park with the Kisseka market in the neighborhood. It can be accessed from Kyaggwe road, Rashid Khamis road and/or on Mackay road. Design considerations The development is on a large site, where several other large scale development projects are underway or in the planning stages.
The mall is noted for its size: with four floors, with retail area occupying the first and second levels. The project design is in such a way as to make it adaptable and
customized to suit the tenant design and planning needs. The mall is a blend of post modern Architecture expressed through coating, glass and paint.
Simple geometry forms the exterior façade and the centrally positioned columns enhance the main entrances. Ambience and cleanliness characterize all areas of the building achieved by a tasteful selection and balance of the exterior mamoran quality materials and color.
Economical, appropriate and low maintenance materials are specified on the whole project. Externally the walls incorporate plaster weather guard paint finish. Floors comprise of PVC and ceramic tiles.
The mall is easy to get in and out of and there is ample parking for the customers. Standby generators and fire extinguishing canisters have been installed at various prime locations. Ramps for ferrying goods from one floor to another and for the physically handicapped have been provided. It is necessary for anchor shops to be used to attract clientele to a new mall.
This usually means a successful brand, or two, takes some large retail space in a really busy area. At the Mukwano mall, anchor stores for big brands, and very large in size have been provided close to the entrance and/or exit of the mall.
These brands include MTN and Imperial Bank among others. More retail space has been provided for onto different levels to provide space for clothing stores, home décor shops, grocery stores and stationery shops.
Materials used
Modern material and finishes were used sourced both internationally and locally notably the use of stone cladding, sand, cement, stone and steel. To give the building a modern look special and modern pastel colors was used. These will ensure easy maintenance and prolonged life span of the project.
Contractors Brief
Krishna Construction Company, one of the leading civil engineering contractors in Uganda the main contractors for the Mukwano mall have to its credit projects like Nyonyi gardens, Mukwano Center, Shopper Stop Plaza, Bai Health and International Medical Centre and Nakasero Towers among others
Project team:
Client: Mukwano Enterprises
Architect: Shelter Plan Associates
Structure Designer: Eddy Mukasa Planners and designers
Mechanical Engineers: M & E Associates
Main Contractor: Krishna Construction Company
Suppliers: Super terrazzo,Hitech Metal industries ltd, M2 concrete pavers, Multiple industries, Shree enterprises, Victoria engineering.