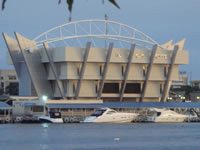 Charts The Paths For Others
Introduction:
Arguably rated as the number one practice in Nigeria, James Cubitt Architects (JCA) Lagos in Nigeria and Accra in Ghana, offers a full range of architectural consultancy services from Conceptual Design Stage,  through to the preparation of production information, the tender stage and finally into the supervision of the project on site.
JCA also sticks to the client till the point when the last defect has been signed off as rectified and the Final Account has been agreed.
Speaking to Construction Review in his expansive office at the exclusive Ikoyi part of Lagos, Arc. Alan Davies, Country Managing Director  and Chairman, JCA, Ghana distinguishes his practice from others, "We are not a multi-disciplinary practice, nor do we operate as a design and build contractor,  believing that to maintain standards, we should concentrate on what we know best which is the design and detailing of buildings."  This is quite in line with the company's declared mission which is 'to develop and evolve our architecture constantly to achieve the highest standards of design and execution'.
The practice has since kept faith with this vision. The result of which is that JCA has its hands on major design projects spread all over Nigeria and Ghana; be it commercial, residential, industrial, educational and leisure facilities.
Origin
Providing insights into the beginning of the practice, Arc Davies traced the origin of
JAMES CUBITT ARCHITECTS (JCA) in West Africa to Great Britain, when the London practice set up an office in Ghana about 1954.  Economic circumstances in Ghana led to the relocation of the practice to Nigeria in 1957 and JCA has been based in Lagos continuously since that time.  JCA has recently been registered in Ghana, once again, but this time by the Lagos practice.
JCA is part of a worldwide affiliation of practices of the same name, located in the Middle East: Libya, Doha, Abu-Dhabi, Kuwait, Dubai, Cairo,  and in Brisbane, Australia, in Lagos, Nigeria and in Accra, Ghana. The services on offer at any of its offices include:
Architecture
Interior Design and Space Planning
Master Planning/Town Planning
Project Management
Contract Management
Landscape Design / Landscape Architecture
Interestingly, in pursuance of their view that interior design should be an integral part of  the conceptual design process, Arc. Davies has set up a sister company in recent years called JAMES CUBITT INTERIORS.  Co-located with JCA, JCI is able to relate closely with the architectural team from the onset of the design process and will therefore be a valuable asset for almost all but the industrial projects.
In a similar way JAMES CUBITT DEVELOPMENTS was also established.  Whilst Arc. Davies admits that perhaps the original motivation for this was to provide a ready supply of major design work for JCA, he is now recognising the potential that it offers in its own right, not just as an income stream but also to create an even greater impact on the Lagos skyline with the JCA stamp.
Services:
The Architectural Services JCA offers cover the normal work stages from inception and brief taking through all the design and working drawing stages, contract documentation, obtaining and analysing tenders.  JCA also carry out Contract Management and supervision of works up to the handing over of the building and conclude with the settlement of the final account.
Complimentary to the above is the full range of Building Consultancy Services by forming a consortium of supporting consultants (Structural Engineers, Mechanical Engineers, Electrical Engineers and Quantity Surveyors) which can simplify matters for the client who may not wish to commission individually and who can then limit contact with the Consultants through the channel of the architect.  Lines of communication are tailored to the needs of its client.
Project history
James Cubitt Architects have been part and parcel of the country's physical infrastructures development, before and after the country's independence, growing with it.  In the 60`s, the work load in Nigeria was mostly the design of Universities. In the 80`s, it was predominantly industrial, and in the 90`s, it was mainly commercial-offices and residences. This trend continues in the new millennium with a variety of industrial, commercial, retail, leisure and residential developments.
Educational:
The company's early years in Nigeria were spent designing major faculty buildings, laboratories and classrooms for the Universities of Ife, Nsukka, Jos and Lagos.  Senate House, the 14 storey Central Administration Building at the University of Lagos was also designed by JCA. In recent years, the new High School for the American International School of Lagos was designed by the practice.
In the company's first period in Ghana, JCA was responsible for the design of the College of Technology in Kumasi, of which the Engineering Department is a well known structure.
Commercial offices:
Amongst the company's  many later buildings, all designed in its  Lagos office, perhaps the  most well known are Mobil House, the 30,000m2 headquarters of Mobil in Nigeria,  for which they were also appointed to carry out the Space Planning and Interior Design,  and Chellarams (now Wema) Tower, on the Marina, Lagos.
JCA also carried out the design, space planning and fitting out of Coca-Cola's Head Office on Gerrard Road, Ikoyi.  The Coca-Cola project also incorporates six flats.   A Head Office Building design was also carried out for Maersk in Nigeria, on the Lagos Harbour front.  This project has been subsequently expanded by the addition of two upper floors.  In addition, JCA recently completed a 6-Storey Head Office Annex Building in Lekki for Diamond Bank.  More recently, it has produced the conceptual design for the new Diamond Bank Head Office, a building of 16,000m2 on 15 floors with two basement floors of car parking and a 7 storey multi-storey car park at the rear.
Moreover, Citibank has also benefited from the professional services of JCA with the design and completion of its new Head office at Ozumba Mbadiwe Avenue. It also carried out the fitting out of Citibank former Head Office in Victoria Island and the total remodelling of other existing buildings as branches in Lagos, Port Harcourt, Warri and Abuja.
About to go on site is a 15 storey office building on Kingsway, in Ikoyi for an oil service company and design is in progress for two other 15 storey Head Offices on Kingsway, and a 20 storey building on Eko Atlantic City. At the end of 2010, JCA won a design competition for the proposed Guinness Diageo Head Office in Ikeja, Lagos.
In Ghana, JCA completed the 11 storey, 13,500m2   Head Office of Maersk Ghana in the precincts of the harbour in Tema, in October 2009. Now it is engaged in the detailed design stage for the Head Office of MTN on Independence Avenue, Accra.
Diplomatic:
The Diplomatic Missions in Nigeria have also experienced the professional services of JCA, with regular invitation to her to design their top projects.  JCA completed the UN House in Abuja in 2003, a building of 13,000m2, designed to accommodate all 13 UN agencies on their relocation from Lagos to Abuja. This is the building that was sadly bombed in 2011.  The design of the Regional Headquarters of the Ford Foundation in Lagos was also carried out by JCA.
JCA also designed British High Commission Consulate, Visa Office and residences in Abuja and Lagos. The diplomatic clients` list also include, the design of  The Canadian High Commission, Lagos, eight Town Houses for the British Deputy High Commission, Lagos,  and a block of 12 apartments on 5 Cowrie Creek, subsequently acquired by the British High Commission.
Leisure:
It is not long ago that JCA completed the Civic Centre on Ozumba Mbadiwe Street in Victoria Island, Lagos. The Civic Centre is a building accommodating public events, with a major structural truss, exposed over the building, intended to support an intermediate floor, to preclude the need for intermediate columns. The Centre has since become a first choice event centre in Victoria Island.
Other leisure facilities the company has carried out include: Ebonyi State International Hotel, Epe Resort and Spa, and Novotel Hotel, Port Harcourt, South-South Nigeria.
Industrial:
In industrial building projects, JCA recently designed and commissioned a new factory for food manufacturing giant: Nestle Plc in Sagamu. Currently under construction is their Distribution Centre for Nestle at Agbara, featuring a free span of 96m, which is assumed to be the widest free span in Nigeria. In the 90`s  the company was at  Agbara industrial Estate designing and supervising new developments for Pharma-Deko Limited, Upjohn Nigeria Limited and a new Edibles Complex for Unilever Nigeria Limited and they are now expanding the Unilever facility and are also building a Unilever DC on a nearby site Also currently in progress are designs for two new factories for Olam Nigeria Limited – one being for Sesame Seed Processing and the other being for cocoa.
Residential:
Many luxury houses for individual clients have been designed by James Cubitt Architects, a recent one of which is on a small but prime site on the lagoon on Alexander Avenue, Ikoyi and another being the residence of the Managing Director of one of the top six banks.  Another notable residence, one of the most recent to be completed, is the conversion of an old G.Cappa house in Ikoyi for the Managing Architect of James Cubitt Architects.  This has recently been published in an Italian design magazine, which specialises in architects and their houses.
In terms of apartment buildings, apart from the historical buildings amongst which were the Flats for the American International School and those for the British High Commission mentioned above, a 15 storey block of luxury flats with basement parking, for the Pension Fund of Nigeria National Petroleum Corporation is about to go to tender.
Two recent residential developments which are about to go ahead are JAMES CUBITT DEVELOPMENTS projects.  One for which the contract was signed in February 2012 is a block of 24 apartments for the Methodist Church of Nigeria, whilst the second is 148 apartments on Banana Island.
Professionals:
James Cubitt Architects is driven by twenty eight professionals with Alan Davies as the Managing Director, Architect and Planner. He is assisted by two Directors: Arc. Ayodele Alabi and Arc. Abiodun Imana. There are three Senior Architects, fifteen other Architects and three Interior Designers. The practice also has a team of four dedicated AutoCAD Operatives.  All work is done on AutoCAD 2010 and lately on Revit. Each architect is trained in the use of both AutoCAD and Revit. There are fifteen Administrative and support staffers.
Future  plans:
In talking of the future, Arc Davies exudes great optimism though he acknowledges that the majority of the future work will not be the result of 'Future Plans' but projects which come through recommendation and reputation.  Where the future planning does have an impact, he says, is in the new directions that have been taken with the setting up of JCI and JCD.  For him the future is in promoting these new ventures at the same time as pursuing the constant goal to maintain and even improve the quality of the architecture coming out of JCA itself.  His ambition is to create a coherent James Cubitt Group, whose parts work as seamlessly as a single entity, as they do in their separate identities.
Offices:
Nigeria Office – James Cubitt Architects, James Cubitt Interiors and James Cubitt Developments
Location: Lagos
8th Floor, Union Marble House
1, Alfred Rewane Road, formerly Kingsway Road, Ikoyi,
Lagos, NIGERIA
www.jamescubittarchitects.com
Ghana Office – James Cubitt Architects
Location: Accra
14, Quarcoo Lane, Airport Residential Area
Roman Ridge. P O B 55725 Accra, GHANA.
London Office – James Cubitt & Partners
Location: London
58, Uxbridge Road, London, W5 2ST, UNITED KINGDOM
Other associated offices – James Cubitt Architects
Qatar, Libya, UAE (Dubai & Abu Dhabi)
www.jamescubittandpartners.com
Australia Office – James Cubitt Architects
Location: Brisbane
36 St Paul's Terrace, Spring Hill, Queensland 4000
www.cubitt.com.au