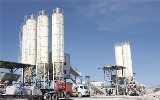 Ohorongo cement has signed an agreement with South African construction giant, Basil Read, to supply cement for the construction of the new international airport on Atlantic island, St Helena.
The supply agreement was preceded by an on-site visit and inspection of Basil Read engineers to familiarise themselves with the quality and production capacity at the Ohorongo plant near Otjiwarongo.
The Basil Read team was satisfied that the Ohorongo plant has the capacity to manufacture the required volume of cement to specification. This aspect  is crucial for Basil Read to meet project specifications and demands. The contract to design, build and operate an airport on the island of St Helena was awarded to Basil Read in November last year and is funded by the British government.
Construction is estimated to take place over a forty eight month period and the project is said to include a 1850m long concrete runway plus taxiway and apron to cater for aircraft up to the size of an Airbus A319-100 and Boeing 737-700.