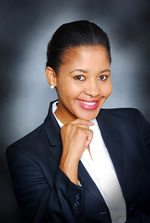 Tumi Dlamini has been appointed Executive Director of Master Builders South Africa (MBSA) – the first woman, and first black person, to become executive head of MBSA in its 108 year history.
She joined MBSA on 1 March 2012 as part of MBSA's new strategic restructuring plan which involves the appointment of an Executive Director as the executive head of the organisation, and the creation of the new post of Operations Director, which will be filled by Pierre Fourie, former CEO of MBSA.
Tumi Dlamini holds a BSoc Sci degree with majors in Industrial Sociology and African Politics as well as an LLB degree, both from the University of Cape Town. She joins MBSA with an impressive and diverse career history. She is an admitted attorney of the High Court of South Africa and was the first black female partner at international law firm, Bowman Gilfillan, where she practiced corporate and commercial law.
After 10 years in legal practice which included time at the firm's London offices, she joined the 2010 FIFA Soccer World Cup Organising Committee South Africa, where she held various key senior positions, including Manager in the Office of the CEO where she was responsible for organisational and executive management as well as operational planning.
She later served as the Head of African Legacy and Strategic Stakeholders, also part of the 2010 FIFA Soccer World Cup project and, in this position, engaged, networked and negotiated with key national and provincial government leaders, as well as business leaders in South Africa and Africa.
She was also responsible for facilitating private and public partnerships for the delivery of the 2010 FIFA Soccer World Cup Legacy projects, one of which was the development of SMMEs to unlock and apply participation by SMMEs in the procurement spend of the World Cup projects.
Danie Hattingh, President of MBSA, comments: "We are delighted about Tumi Dlamini's appointment to our organisation.
Her appointment marks the implementation of the next phase of Master Builders South Africa's strategic plan and will strengthen the organisation's liaison with Government and industry stakeholders.
She will be responsible for implementing the new growth strategy adopted by the MBSA Board. Over and above her leadership and executive management role, Tumi's main focus will be to cultivate and strengthen strategic relationships with national and provincial governments, as well as key industry role players, to unlock investment and development within the building industry."
The new MBSA Executive Director says she is looking forward to working with MBSA and achieving its strategic goal. "I will use my accumulated experience to lead the organisation towards the advancement of its priorities for the greater good of the industry," she added.