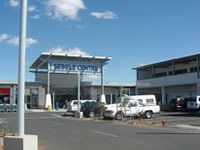 The grand opening of the new Sebele Shopping Centre was truly a momentous ceremony.
Mostly targeting local Sebele, Phakalane, Gaborone Block 10 and Gaborone North dwellers, the Sebele Shopping rd Centre was officially opened on 23 June 2011 by Sandy Kelly, Director of PrimeTime Holdings.
In addition to the already mentioned categories of customers, the new mall is sure to get business from bypassing travelers who need to stock up for the journey ahead as it is located very conveniently on the A1 highway.
Despite rd the official launch being on the 23 June, shoppers enjoyed fantastic th opening offers right through to 26 June 2011 at this long needed convenience centre.
The shoppers were dazzled by funky tunes and friendly faces with performances by traditional dance groups to celebrate this very important occasion. They lived the dream of convenience as they used their Centre guides to locate their store of choice.
Shopper who couldn't make it to the launch were given a sneak preview through a live broadcast on RB2 (Radio Botswana 2), a local radio station, so they could also partake "in spirit". Sebele Centre is definitely the place to stop, shop, meet and eat.
Customers are offered a variety of store options in the form well esteemed shops such as Pick n Pay, Woolworths, as well as a hardware store, restaurants, technology stores, and much more to meet their shopping needs.
Time Projects would like to congratulate all who were involved in the development of Sebele Centre and those who made it possible to open on time, despite the rains and the national workers strike (which was later resolved).
Project team:
Project Manager: Time Projects Botswana
Main Contractor: Red East Construction
Quantity Surveyor: MLC Quantity Surveyors
Electrical & Mechanical Engineer: A.R. Edwards & Associates
Civil & Structural Engineers: ADA Consulting Engineers
Timber Trusses: Tlhomeso Timbers