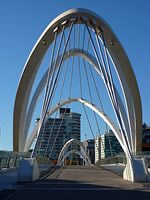 The Seafarers Bridge
World's Most Spectacular Pedestrian Bridge
Seafarers Bridge is located adjacent to the Yarra's edge development on the north bank and the heritage sheds on the south bank of Melbourne's Yarra River. The architect, Grimshaw Partners, had a very clear vision for the Seafarers Bridge, which consisted of a bridge deck supported by steel ties connected to elliptical arches over a main span of 75 metres.
The function of the bridge is to connect the north and south banks of the river while providing a formal entrance to the new Melbourne Convention Centre.
This siting allows the bridge to behave as a 'street' to naturally connect two previously underutilized public spaces as well as generally connecting the Docklands back to Southbank.
Construction
The bridge is designed to sit slightly off 90 degrees to the river so that it naturally connects to two previously under-utilized public spaces as well as generally connecting the Docklands back to Southbank. The Seafarer's Bridge is a good dynamic example of structural expressionism.
Constructing a bridge to span the western section of Melbourne's Yarra River takes a certain degree of difficulty. Taking into account the importance of building a bridge that will be environmentally and economically sustainable as well as working in a highly corrosive environment, requires the right selection of materials, and a special skill in the fabrication approach.
The fabrication approach allowed for the large scale arches to be factory fabricated in transportable sections and to erect the arches as complete structures on the arch bases.
As Rod Campbell the Manager at Focus states, "The arches and suspension bars are not just about looking aesthetically pleasing to the eye; they have to be structurally sound to support the bridge"
The cost and naming
This beautifully arched pedestrian bridge built at a cost of $15 million dollars opened to the public in January 2009, but remained unnamed until December 2009.
People just called it the big white bridge Melbourne City Council invited Melbournians to suggest fitting names for the bridge – there were 539 submissions and from these the name "Seafarers Bridge" was chosen and approval was obtained from the State government to officially christen the bridge.
Source of design
The bridge's design grew from a desire to create a processional crescendo towards the Plenary Hall of the Convention Centre.
By clustering two groups of compression arches, three small arches to the north and four arches to the south, and tying these together and hauling them back to the ground, the structure that supports the bridge works to define and enclose the space for the pedestrian.
Seafarers Bridge was both a complex and challenging project due to the bridge's unique architectural design, tight budget and fast construction timeline.