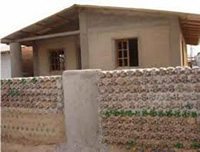 The Young People Without Border (YPWB), a community-based organisation in Siffoe Village, Kombo South, has built its resource centre in Siffoe Lower Basic School out of bottles and waste plastic bags.
Young People without Borders seeks to encourage young people to actively participate in their own personal development to achieve self-confidence, self-reliance and self-realisation.
The organisation operates to prepare youths to take serious measures to the challenges ahead of them and to enable them fit well in their own societies and effectively play their role as young people in national development endeavours.
The centre was built out of 1,920 bottles mainly collected as household refuse, thereby contributing to the reduction of environmental pollution.