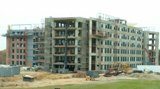 The Media Council of Tanzania (MCT) has acquired 14 plots at Kimalang'ombe area in Bagamoyo town, about 75 km north of Dar es Salaam on the Indian Ocean Coast to construct a modern's MCT Complex as it announces $2.6 million budget for the coming year.
The MCT's Executive Secretary, Mr Kajubi Mukajanga said that the maintenance of the 13-acre piece of land was in place.  He added that they are waiting for the government's decision whether MCT will be allowed to keep the property or whether it would be expropriated for EPZA activities as indicated the previous year.
The three storey Complex will also work to influence development activities in Bagamoyo which played various historical roles in the country.
The facility will comprise office accommodation, budget hotel and a modern conference with capacity to accommodate 600 people at a time as well as an income generating complex for council sustainability, the MCT's annual report said.