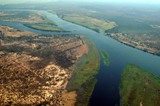 Botswana and Zambia have invited bids for the construction of Kazungula Bridge on Zambezi River at an estimated cost of US$260 million.
The project would be financed partly through a loan of $80 million signed on February 10, this year between Zambia and the African Development Bank.
The Botswana government would meet part of the cost while another partner, Japan International Co-operation Agency (JICA), is expected to come on board. The Kazungula Bridge Project is expected to be completed in six years.
Consultancy services would include design review, production of bidding documentation, supervision of works and post-construction services.
The bridge is expected to significantly improve trade infrastructure of the Southern African Development Community (SADC) and the African continent as a whole. One-stop border facilities will be erected in both countries with a 930-metre-long and 18.5-metre-wide road-rail bridge.
The facility would provide vital transport infrastructure on that corridor as it would facilitate easy access to intra-regional trade and international market through connectivity with major sea ports.