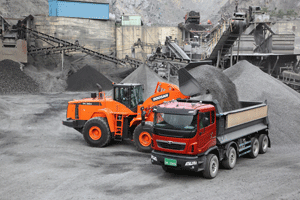 Doosan Infracore Construction Equipment has launched the new generation DL550 wheel loader, the top-of-the-range model in the company's new family of wheel loaders intended for markets in the Middle East and Africa.
With a bucket capacity of 5.4 m3, the DL550 wheel loader is designed to meet a wide range of material-handling needs from loading and transporting granular material (such as sand and gravel) to industrial, mining and quarrying applications.
A key feature of the new DL550 wheel loader is the Tier 2 12.7 litre Scania DC13 turbo-charged, air-to-air intercooled diesel engine, which is ideal for use in the Middle East and Africa, delivering 'best in class' power with a maximum output of 294 kW at 2100 RPM.
The high engine power output is combined with new ZF transmissions and several other features which, in addition to reducing fuel consumption, provide exceptional performance, high durability, ease of handling and serviceability, and significantly enhanced operator comfort.
The new DL550 wheel loader has three engine working modes: ECO, NORMAL and POWER, to adapt the machine to different applications, with different engine speeds and gear steps according to the working mode engaged. With the 'Power-Up' function, the operator can manually adjust to the next highest working mode by applying a full stroke of the accelerator pedal.
With this function, the operator can travel in moderate NORMAL mode and switch to POWER mode when it is really needed, such as when taking material from a pile.
This capability helps to reduce fuel consumption. The ECO Bar provides information in real-time about fuel consumption in relation to machine performance, allowing the operator to select the driving mode for the best fuel efficiency.
Like all new generation Doosan large wheel loaders, the DL550 is equipped with load-sensing closed centre controlled, variable hydraulic piston pumps, improving performance and reducing fuel consumption. With load sensing, the hydraulic pumps receive a signal from the main control valve (MCV) informing how much oil is needed. This helps to improve engine performance and reduce fuel consumption.