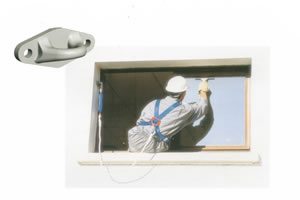 Becker Mining South Africa's travelling lifeline system, the Travsafe, offers personal protection against falls when workers are conducting cleaning and maintenance procedures at heights over 3m.
"This lifeline system provides secure anchorage to the structure, allowing the worker, attached by the lanyard of his fall arrest harness, to move safely and freely along the ropes, around corners and over brackets, for virtually unlimited distances," says Charlotte Megannon, product manager for Becker Mining South Africa.
"A special feature of this low maintenance system is that the travelling anchor can be removed from the lifeline and used on more than one system. There is no need to disconnect and reconnect to the anchorage.
"We strongly advise that prior to use, a specialist engineer confirms connections to a structure can safely withstand potentially high loadings. Equally important is the installation of the Travsafe itself, which should only be fitted by specially trained and approved installers."
Safety features of the Travsafe include a twin structure of stainless steel wire rope; traveller jaws which close around the wire ropes only when a load is applied and a locking device at the end of the lifeline system which prevents the accidental exit of the travelling anchor. High strength aluminium anchorage brackets which are corrosion resistant, can be mounted to vertical or horizontal surfaces like floors, walls, ceilings or onto equipment.
Becker Mining South Africa's commitment to securing a safe working environment is confirmed by an extensive range of lifting and pulling equipment that meets stringent international safety and quality specifications. The company also offers a test, repair and maintenance service to ensure all equipment operates in perfect condition.
For further information Charlotte Megannon, Becker Mining South Africa
PO Box 124185, Alrode, 1451
Telephone         (011) 617 6300
Telefax             (011) 908 5806
Email                 [email protected]