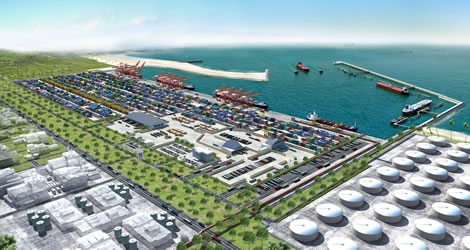 Nigeria's Federal government has taken the initiative to decongest existing Port in the country by approving a US$1.35billion contract for the construction of a new Deep Sea Port in Lekki- Lagos State.
Briefing state house correspondents after the weekly Federal Executive Council meeting, Minister of transport Senator Idris Umar said the project which is expected to be completed within the next four years is to be constructed under a public private partnership PPP arrangement on a concession basis for a period of 45 years after which it will revert to the federal government.
The Minister explained that the federal government has 20 percent equity in the project with Lagos state having 18.5percent equity while the private investors have 61.85 percent stake in the project.
He added that the Council approved the issuance of a Guarantee to cover financial obligation of the Nigerian Port Authority to pay compensation in the event of expropriation, war, civil disturbance, breach of contract and other event of default as per the concession agreement for the development of the port, as US$800million out of the project cost is to be funded through debt financing while the balance of US$554.5million is to be contributed by equity.
The port is designed to handle the largest vessels in the world and is expected to cover an area of 90 hectares with room for expansion and 6 km in length which will be dredged by the contractors. The port is designed to handle 4 million tonnes of cargo. The width of the channel leading to the Port is put at 200 meters to be dredged to a depth of 17.5 meters with a width of 300 meters making it the deepest in the West Africa.
The Nigerian Ports Authority (NPA) is expected to garner over US$9.3 billion made up of US$2.6 billion from marines services and royalty and US$6.7 billion from share of profits from the investments over the 45 years.