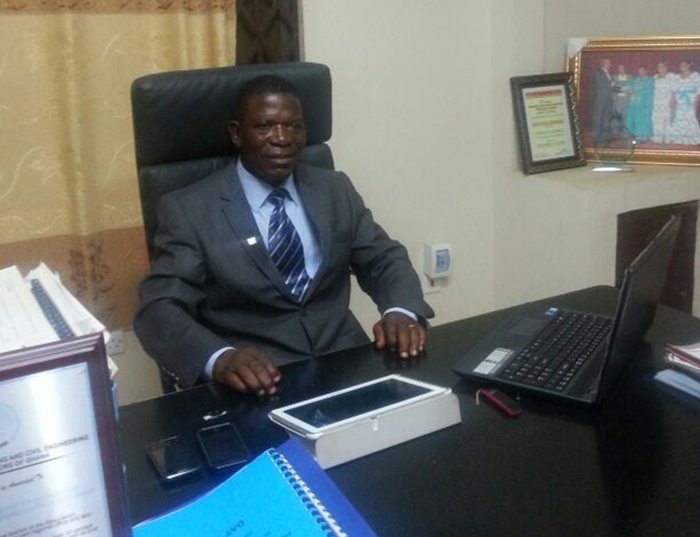 Builder Martins Kwasi Nnuro is the President of the Association of Building and Civil Engineering Contractors of Ghana (ABCECG), a position he has held since April 2012. With 34 years experience in building and construction, Builder Nnuro can be said to have been born into the practice. Construction Review had the opportunity to interview him and learn more about his background, the role of the ABCECG and the progress the association has made under his stewardship.
Early years
Builder Nnuro's first insights into the construction industry came courtesy of his father. He was a teacher in colonial Ghana who resigned from teaching to become a cocoa farmer, a gamble which paid off when he became a wealthy farmer owning a large acreage of cocoa plantations. Bldr Nnuro's father would later build a 2 storey building himself assisted by some artisans. The building still stands today as a testament to good solid construction.
Later on his elder brother formed Talent Associates Ltd, a construction firm after qualifying as a Building Technologist from the Kwame Nkrumah University of Science and technology (KNUST) and with a few years of working experience with Public works Department. Nnuro joined his firm as a qualified accountant from the Accra Polytechnic in 1975 armed with a Diploma-in-Business studies- Accounting option. At Talent Associates he handled the Accounts and Administration section of the firm with tasks such as paying of workers in four operating regions of the firm, namely Eastern, Volta, Central, and the Greater Accra Regions.
"I got interested in the works that were going on at the sites right away. So I started to read the drawings in relation to the actual construction. I did this with the foremen at all sites. Further to this, I borrowed some quantity surveying books and others and started reading about building and construction. Along the way I had an opportunity to undertake courses in Building and construction and some management course. Soon I became very knowledgeable in construction activities,'' he said. With determination and hard work, Bldr Nnuro formed Malkna Enterprises limited in 1992 and has been working very hard to grow this company to date.
President – ABCECG
Bldr Nnuro before ascending to the topmost office in ABCECG presidency through dint of hard work and passion for the industry was the Vice Chairman of the Association in the Eastern Region in 2005, then a National Executive member until elected the National President in April 2012.
As the President of the Association of Building and Civil Engineering Contractors of Ghana (ABCECG)his function has been to rebrand and reposition the Association in line with modern trends.
He has instituted innovative measures for membership recruitment, stepped up capacity building and encouraged professionalism in addition to putting in place capacity building from Artisanal, through supervisory to managerial levels seeking support from Government, SDF (COTVET) and other agencies for all Ten (10) Regions of Ghana.
The ABCECG is a founding member of the African Federation of Construction Contractors (AFCCA) and a member of the 12 member Executive Bureau which meets to formulate rules that govern the AFCCA.
By comparison ABCECG's outlook regionally and internationally is very commendable. Membership of the association by local and foreign firms keeps increasing by the day. Membership strength is now about 2000.
The National Secretariat has been renovated by the president to an appreciable state, increased staff and logistics and instituted effective administrative procedures.
Benefits
Bldr Nnuro says the first benefit of being a number of a professional Body such as ABCECG is to be identified as a Professional Builder. Other benefits include an opportunity to share ideas and experiences locally, regionally and internationally.
"You must be a member in good standing to access all benefits.The Association is the mouth piece of its members. It holds the collective bargaining certificate with the Trade Union Congress, ''he stated.
According to him building and civil engineering professionalism in Africa is low compared to other parts of the world, however he says construction in Africa has drastically improved, where indigenous constructors are engaging in more sophisticated structures across Africa.
"There is much growth now in the Building and Construction Industry, but we can do much better by instituting regulatory frameworks that would play regulatory , developmental and advisory roles to governments in Africa in order to manage and develop the activities of the industry for sustainable growth,'' he added.
He advises upcoming builders to be professionals and adhere to the rules of the profession. "Be it in government or in private employment, rules of procurement and rules of construction delivery without compromising quality, and time delivery as well as financing of projects must be respected,'' he emphasised.