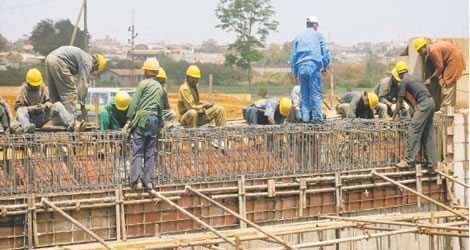 Kenya's building and construction industry has experienced a boom in the recent years with an average growth rate of 14.2 percent between 2006 and 2011.
Cement consumption increased at an average rate of 14.1 percent in the same period with consumption reaching 3.43 million tonnes (mT) in 2011, up from 1.57mT in 2006.
The key drivers of this growth included rising demand for housing, which triggered an upsurge in private sector funded housing developments, commercial construction boom fuelled by increased foreign investment and extensive government and donor-funded spending on the country's mega infrastructure projects.
However, now the industry should brace itself for tough times ahead following the government's introduction of a new levy on minerals used in cement manufacturing. This move is expected to increase the cost of the product putting more strain in efforts geared towards bridging the country's huge housing deficits in urban and rural areas estimated at 200,000 and 350,000 units respectively and the need for improved infrastructure.
Cement producers will be required to pay a cement minerals levy at a rate of Ksh.140 (US$1.611) to the government for every tonne of cement produced beginning this year. This is according to a special gazette notice by cabinet secretary for Mining, Najib Balala. The new regulation is expected to raise concerns within the mining sector with manufacturers likely to oppose the new rates that will translate to an increase in the cost of production.
The ministry has also revised the royalties for fluorspar products to be backdated to July 2013. Under the new regulations, fluorspar products will be levied at 2 per cent of the gross sales value for the period between July 2013 and June 2015. As from July 1, 2015 to June 30, 2017, the products will be levied at 3 per cent of their gross sales value. A new rate of 4 per cent will be applied on the products for the following two years before being raised to 5 per cent in July 2019.
Fluorspar is used in steel making, iron and steel casting, primary aluminium production, glass manufacturing, welding rod coatings and cement production. Similar rates will also be applied on products manufactured using Magadi Soda such as soda ash and salt. Soda ash is used to make products such as pharmaceuticals, toothpaste and deodorants.
The new regulations come at a time when mining companies are faced with a new levy under the Mining Bill 2013. If passed into law, the Bill will see the cement manufacturers pay 1 per cent of their annual turnover to the government as mining royalties. The Bill, at the drafting stage, also proposes automatic acquisition of a 10 per cent interest on all mining companies by the government.