Spain based Linden Comansa (Construcciones Metálicas Comansa S.A.) is one of the world's leading manufacturers of tower cranes and luffing-jib cranes. The company offers a complete range of cranes, designed under the Flat-Top modular system, including the latest technology and following the European standards.
Linden Comansa's catalogue is currently formed by 41 Flat-Top tower cranes and 12 luffing-jib cranes, with maximum load capacities from 4 to 64 tons. With such a complete range, Linden Comansa offers solutions to all type of construction works, residential, commercial, industrial, public works, infrastructures, mining, etc.
The company's modern premises in Huarte, Spain, allows for agile manufacturing, short delivery times and very competitive prices. Linden Comansa is recognized by the major international certifications, like the OHSAS 18001:2007 for occupational Health and Safety management systems, ISO 9001:2008 for Quality management systems, and ISO 14001:2004 for environmental management system.
All of Linden Comansa's tower cranes are designed following the Flat-Top Modular System, a very well known design whose main advantages are long life of the structure, fast, simple and safe assembly, Easy and cheap maintenance, cheap transportation and minimum storage costs.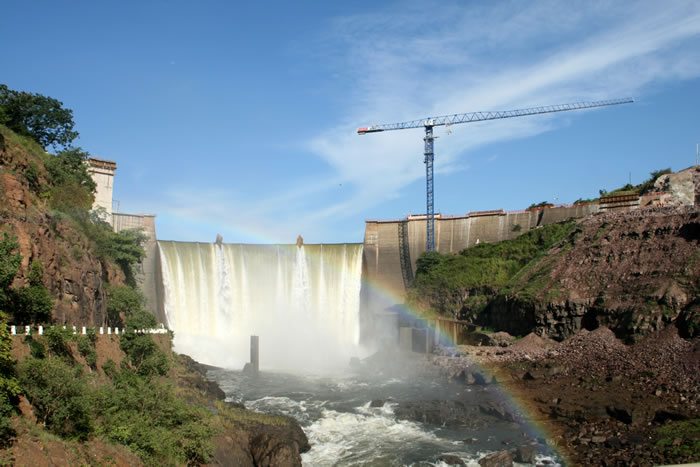 A Linden Comansa tower crane at the Cambambe dam in Angola
Other features include great freestanding heights, high speed hoist engines, comfortable cabins with complete view of the work area, double / single trolley system with automatic receiving change, drums with large capacity for wire rope and powerLift System.
Since the creation of the company in the 60's, Linden Comansa has manufactured more than 16,000 tower cranes, delivered to more than 60 countries from all 5 continents.
Mariano Echavarri from the communications and marketing department says that their products are available in African countries like Egypt, Morocco, Algeria, Nigeria, Tanzania, Democratic Republic of Congo, Ivory Coast, Angola and South Africa.
Contacts;
Linden Comansa
Mariano Echavarri
[email protected]
www.lindencomansa.com