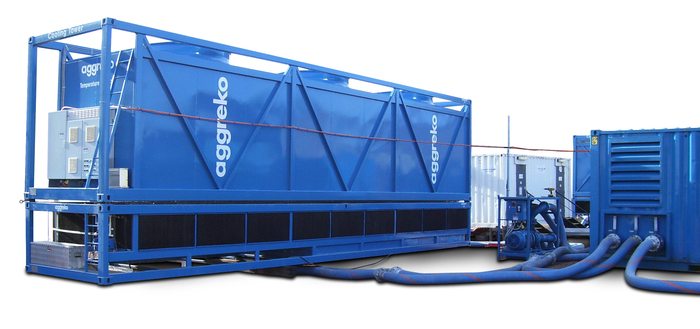 Here are the top 10 manufacturers and distributors you should know about when buying or renting generators.
10. Manlift Group
Manlift Group distributes a large fleet of generators that are built specifically for harsh conditions and extreme temperatures and have large internal fuel tanks for 24-hour running. They range from 30 KVA to 1250KVA. The company supplies the generators to the UAE and Qatar and has provided products for projects such as the Dubai Metro, Palm Jumeirah, Dubai Festival City, Motar City, Al Raha Beach and Yas Island.
9. Kirloskar
Kirloskar's 250KVA genset is widely used at construction sites to power portacabins, labour camps and several types of equipment and accessories required on-site. Over 50,000 Kirloskar Green Gensets are manufactured annually and all plants are ISO 9001/9002 accredited. Kirloskar Middle East FZE is located in Ajman, UAE. The office supports the business activities in the entire Middle East region. Kirloskar has a substantial share and a presence in the engines and diesel generator sets segment in the GCC region.
8. Ingersoll Rand
Ingersoll Rand supplies 20KVA to 600KVA diesel generators. Its business comes from almost all sectors that require electrical power. Business fluctuates from one sector to another, according to the company depending on the activeness of the industry. The construction industry, for example, lead the GSS economical growth from 2002-2008 but is now declining slightly. In the current climate Ingersoll Rand has found that renting is the preferred method of acquiring generators.
7. Himoinsa
Founded in 1982, Himoinsa is a manufacturer of power generators based in Spain and has suppliers across the world, including the Middle East, which distributes its products and supplies spare parts. The products found most popular on construction sites are Himoinsa's 100KVA to 500KVA generators.
6. FG Wilson
FG Wilson designs and manufactures diesel and gas generator sets. Its most popular generators used in construction sites range from 60KVA to 500KVA. However, the company offers gensets from 10KVA to 2200KVA to meet customer demand. All these are required as sound attenuated and weather proof canopied generators. FG Wilson offers technical support from pre sales and after sales support for installation, commissioning, and undertaking of AMC contracts. The company's business comes from the Middle East region including Iraq and Afghanistan.
5. Cummins
Cummins is an international company that designs and manufacturers power generation equipment. Generally, the company offers gensets between 15KVA and 500KVA. The 250KVA to 500KVA range is used during construction for powering offices, cranes and other miscellaneous construction requirements. Generators ranging from 500KVA to 3000KVA are used for permanent installations as back-up power to local utilities companies in most buildings. The major business for Cummins Middle East comes from Dubai, UAE. But the company has seen growth in business activity in Qatar, Bahrain and Oman. Most construction work and activities last for two to three years; therefore Cummins believes that contractors prefer to rent generators for specific projects instead of owning the equipment and continuously moving it to new project locations where they incur hefty logistic costs.
4. Caterpillar
Caterpillar provides gas-powerd generator sets from 9KW to 600KW and diesel-powered generator sets from 7KW to 16,200KW. It supplies these products to five GCC countries for which Al Bahar, a machinery and trading group in the Middle East, has the Caterpillar dealership. Caterpillar has different models to cater the needs of the industry and for varied project requirements. Cat clean diesel engines are designed for thousands of hours of life before overhaul. Features like high-strength blocks, large bearing areas, steel backed aluminum alloy bearings and hardened crankshafts are a few examples of how Cat engines are designed to deliver long life cycles.
3. Atlas Copco
Altas Copco provides portable and stationary generators. Lately, the company has seen an increased activity in the larger 500KVA to 1000KVA power nodes, due to power shortfalls in some urban areas, but is still connected to contractors who require 20KVA to 275KVA ranges. The company works with contractors in the UAE and Oman but, due to its size, Saudi Arabia has been Atlas Copco's most prominent market. Its goal is to balance market penetration in the region through direct operations and localised dealers. The company believes that there is a trend towards buying over renting, as only 25% to 30% of generators sold go to rental companies. But, it expects to see expansion of local and international rental companies emerging in the market.
2. Aggreko
Aggreko can supply generators from 15KVA to 2000KVA in single units, as well as multi-megawatt packages using 1250KVA units, which are linked together. Smaller sets are used to power portacabins, piling machines and hand tools, while construction cranes are usually powered by 250 or 320KVA generators. Large-scale construction projects often require multi-megawatt power packages, which are used to power labour camps and temporary accommodation for construction workers. Aggreko provided 32MVA of rental power to support 25,000 labour camps on Yas Island. Unlike its competitors, Aggreko does not sell equipment. Instead, it provides customers with power packages, including engineering and design to commissioning and operation. The company has a network of ten locations in six countries – Saudi Arabia, Oman, Bahrain, Kuwait, Qatar and the UAE.
1. Action
Action's fleet of power generators vary according to the size of project and power required. The biggest demand from the company at the moment is units between 500KVA and 1250KVA. Some of these products run separately, while others are connected to each other creating a small power station. Currently, the majority of Action's business comes out of Dubai but the company is serving Abu Dhabi from its office and yard in Mafraq.