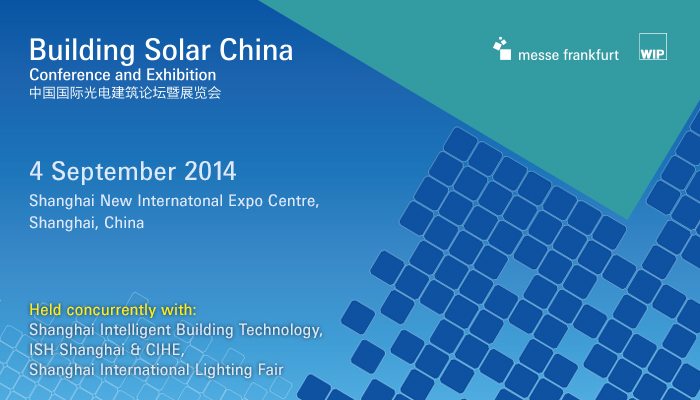 Composed of a professional conference and a product display area, Building Solar China is the event to showcase integrated solar and smart technology solutions for buildings. Building Solar China is designed to serve as a pivotal platform to:
• Focus on smart solar building solutions including BIPV
• Support the strong global development of renewable energy and its market demand created by China's government policies
• Enhance the exchange of experience with professionals, experts and industry leaders from east and west
• Enrich knowledge on technical and global market developments as well as the latest industry news
• Discover the potential in China's solar building market waiting to be unleashed
"Smart Solar Building Solutions" and "Building Integrated Photovoltaic Systems" will be the two major discussion themes at the conference. Highlighted topics include smart solar building solutions, solar building energy infrastructure, market analysis, government policy as well as various case studies. Additionally, some of the latest products on display at the 2014 event will include building-integrated photovoltaic systems (BIPV), specialised solar glass products, solar panels, innovative energy-saving and energy renewal solutions.
The third edition Building Solar China will be held concurrently with Messe Frankfurt's Shanghai Intelligent Building Technology Fair, ISH Shanghai & CIHE and Shanghai International Lighting Fair. Collectively known as the "Intelligent Green Building – IGB" exhibition platform, themes on building automation covered across the associated shows include building energy efficiency, intelligent cities, smart homes, development of solar thermal technology as well as various energy-efficient lighting solutions.
The four events are expected to take place across more than 40,000 sqm of exhibition space and attract visitors from a wide range of disciplines including, system integrators, architects, contractors, engineering designers, contractors, property owners developers and much more.
4 September 2014
Shanghai New International Expo Centre, Shanghai, China
www.buildingsolarchina.com
[email protected]
Organisers
Messe Frankfurt (HK) Ltd
WIP GmbH & Co Planungs-KG
For enquiry, please contact
Europe
WIP
Tel: +49 89 720 12 735
Fax: +49 89 720 12 791
[email protected]
Americas, Asia, Middle East and others
Messe Frankfurt (HK) Ltd
Tel: +852 2238 9953
Fax: +852 2598 8771
[email protected]