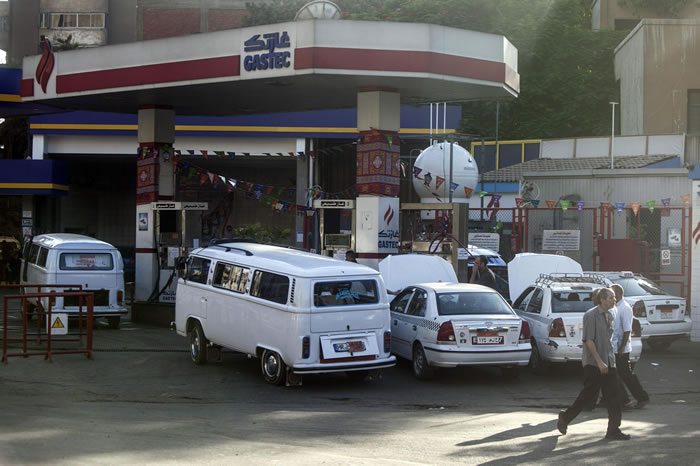 In an effort geared to reviving an economy that has been battered for more than three years of political turmoil, the Egypt government is set, from Friday end of this week, to raise mainstream fuel prices by up to 78 percent.
According to the ministry of Oil in Egypt, the step to cut energy subsidies to ease the burden on its swelling budget deficit has been long overdue because successive governments have failed to curb energy product subsidies, fearing a backlash from a public used to cheap fuel.
The populous nation has faced instances where food and energy subsidies traditionally eat up a quarter of state spending and the government is cutting subsidies in hopes of reviving an economy already injured with political turmoil.
Following the increase, which began implementation last week, according to the government sources, the price of 92 octane gasolines would be 2.60 Egyptian pounds (36 cents) per litre, up 40 percent from its current price of 1.85 pounds, while 80 octane gasoline would rise to 1.60 pounds per litre, up 78 percent.
Diesel will rise to 1.80 pounds per litre, an increase of 63 percent, while the less commonly used natural gas for vehicles will rise by 175 percent to 1.10 pounds per cubic meters.
Khalid Hanafi, Egypt's supplies Minister confirmed the cuts on private television, saying that the state will cancel 90 octane gasolines and the price for 92 octane gasoline would be 2.60 pounds, while the price for 95 octane gasoline would rise to 6.25 pounds.
He also confirmed that diesel prices would rise to 1.80 pounds. The newly elected president Abdel Fattah al-Sisi has already raised electricity prices in efforts to reform energy subsidies, one of a range of politically sensitive subsidies that also cover transport, food and agriculture
State finances have been decimated by more than three years of political turmoil, but the government is trying to improve them without provoking a backlash from Egyptians, who have helped topple two presidents since 2011 but have yet to see an improvement in living standards.