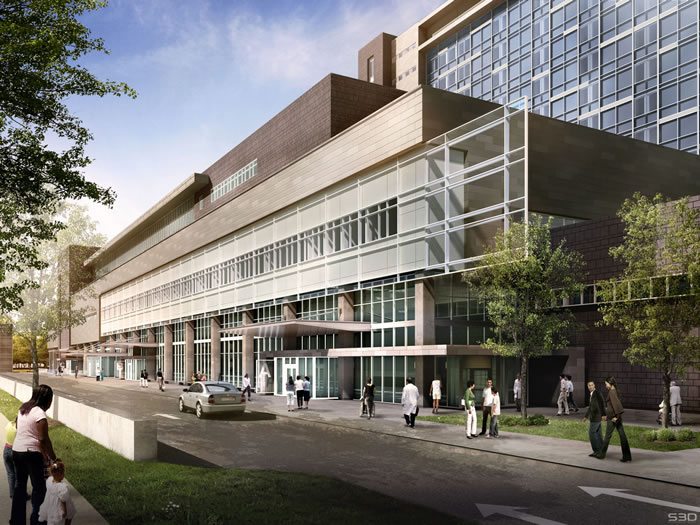 As a pioneer in driving process improvements and efficiency in healthcare, Humber River Hospital chooses View Dynamic Glass.
Challenge:
Design an innovative, patient-focused hospital that will be the first fully-digital hospital in North America. Utilize 40% less energy than the National Energy Code standard, and realize an annual utility savings of at least $1 per square foot.
Solution:
View Dynamic Glass replaced a motorized integral blind system to improve patient experience and contribute to Humber River Hospital energy savings.
Result:
A successful building design meeting both patient-focused and energy-efficiency objectives. Construction is underway with an expected completion by spring 2015. HRH will have one of the largest electrochromic glass installations in the world, with nearly 26,000 square feet of View Dynamic Glass in sizes up to 5 feet by 7 feet.
Humber River Hospital will be a 656-bed hospital, over a 100 patient-bed increase from the current 549-bed capacity. This increase will enable HRH to provide a more comprehensive range of acute care services and support for both inpatient and outpatient programs.
"The new Humber River Hospital is a shared goal for a modern high quality hospital," said member of provincial parliament (MPP), Mario Sergio. The design and construction of the new acute care facility will seek LEED® Silver Certification, a voluntary rating system that balances environmental impact with building occupant health and wellness.
In addition to contributing to the utility savings at HRH, View Dynamic Glass will contribute to improved patient outcomes and staff satisfaction by providing more access to daylight and continuous views of the outdoors. Hospital design teams recognize that natural daylighting helps maintain a patient's circadian system improving sleep patterns, quality of sleep and decreasing fatigue. Research also shows that exposure to daylighting and views of the outdoors help to reduce patient depression, agitation and even ease a patient's pain. Hospital staff benefits include increased alertness, effectiveness and decreased fatigue, stress, and absenteeism. These benefits all help to reduce medical errors and improve facility healthcare overall.
Benefits:
View Dynamic Glass technology is providing HRH the following:
A fully automated solution
A better patient experience
An advanced technology integrated into BMS
Team
Architect HDR
General Contractor PCL
Glazier Contract Glaziers, Inc.
Glazing system
Project Type New Installation
System Type Curtain wall
Make and Model Falwal IV 6100 Series Arctic Wall
IGU makeup
Overall Thickness 1″; 1–1/4″
Outboard Lite 6mm tempered clear with EC on surface #2
Spacer ½" black warm edge spacer
Inboard Lite 6mm tempered clear; laminated