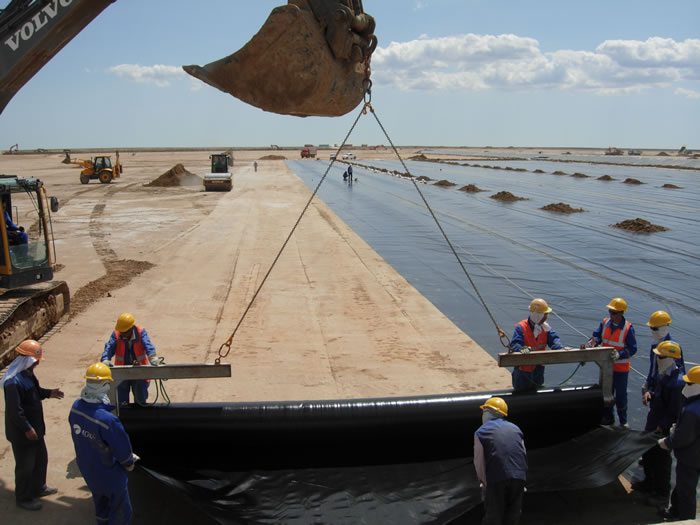 The recently installed continuous polypropylene geomembrane lining on a project in Kazakhstan is considered to be the World's largest Lagoon lining with more than 1.4 million square metres (350 acres).The giant lagoon facility in Kazakhstan, of some 1,400,000 square metres (350 acres), designed to contain process liquid waste for an oil company, was lined in 7 months site work.
This remarkable fast track programme was achieved by British company, Geosynthetic Technology Ltd, (GT) which was appointed to manage all aspects of the lining project. GT, based in Colchester England, has more than 40 years experience of Geomembrane Engineering and specialises in high quality lining project management on an international basis.
In preparation for the fast track plans considerable time was spent by GT on project planning particularly in evaluating and testing of various geomembrane lining materials reviewing manufacturing resources; international transport logistics; training and certifying unskilled labour; geomembrane installation planning and quality assurance procedures.
According to GT Chairman, John Alexander the original planning by the oil company client foresaw the lining being installed in phases over a three-year period.
The harsh winters from November to March meant that lining installation work was only possible from April to October. Based upon the clients past experience of lining works by other companies working on the same site, this indicated a three year installation programme for the 1.4 million square metre (350 acre) project.
GT commenced the installation in August 2010 with the objective of testing their rapid installation plan over about 10% of the total lagoon design area. GT literally 'hit the ground running'. Everything worked perfectly and, despite very hot weather (up to 38º) the trial area was completed ahead of schedule.
The client noted the rapid progress and authorised the whole of the remaining area to be installed on the same fast track basis from April to October during 2011. In fact, despite severe dust storms and occasional flooding, the work was completed by the end of August 2011. Every seam was tested and all quality procedures completed. GT Chairman, John Alexander said "I have been working in Geomembrane Engineering for nearly 40 years and have never seen a geomembrane installation more professionally performed".
The Geomembrane Material used clearly indicated that key factors, such as maintaining programme in hot weather conditions and / or moderate winds, distinctly favoured PP-EX over HDPE. Moreover, using PP-EX would eliminate the need for night working throughout summer months.
On a 1,400,000 square metre (350 acre) project employing several people in a fast track liner installation, these factors had major cost implications. In addition, whilst on a same gauge thickness basis, PP-EX sheet material costs more than HDPE, the much higher puncture resistance of PP-EX enabled PP-EX 1.00mm (40mil) gauge and PP-EX 1.5mm gauge (60mil) to be proposed. HDPE would need to be at least 2mm (80mil) gauge to be equivalent on this basis and, as such, the basic material -cost advantage of HDPE over PP-EX is insignificant in the final cost calculations.
Overall, taking into account other beneficial factors including much faster welding speeds; installation programme reliability; and fewer quality and rectification problems the total cost benefit of using PP-EX on the project as opposed to HDPE was calculated to be considerable. This, together with the clear technical limitations of HDPE, led to HDPE being expressly banned from use on the project by the client's Engineers.
The two most important factors considered for container freight were the size of rolls, to enable best use of container volume and the method of loading/unloading without damage occurring. It was determined that rolls of 1.00mm (40mil) gauge in a sheet size of 5.8m (19ft) x 200m (656ft), and rolls of 1.5m (60mil) in a sheet size of 5.8m (19ft) x 135M (443ft) would enable 16 rolls to be packed per container in each case, a symmetrical 4 x 4 formation, without risk of crushing or becoming loose during the 2000 mile journey. (Fig 10) A purpose made 'spike' was bolted to a forklift truck. The spike was inserted through the central core of the rolls for loading/unloading. Each roll was fitted with slings to facilitate site lifting by excavators.
INSTALLATION QUALITY CONTROL
Every seam was tested qualitatively by an air pressure method. Each seam weld actually comprised two parallel welds with a gap between them. The end of the seam run, (up to 200m in length) is clamped, and air is pumped in to the weld gap to inflate it to a predetermined pressure, which is read from a gauge. If this pressure is maintained for a specified time, the seam is verified as airtight. In the event of a drop in pressure, the leaking air is easily located by sound, and the leak can be patched by welding.
At the start of each shift or change of welding machine setting, a sample seam tab is submitted to the site laboratory for destructive testing. It is pulled to destruction on a Tensiometer and the values for strength and elongation at break are noted. The mode of failure of the seam is also examined. Detailed records are maintained and the location of all rolls and seams are noted on an As Built drawing. The site based quality control function was performed by an English-speaking person to ensure nothing became lost.
"This Geomembrane Lining Project was groundbreaking in many respects" says John Alexander, GT's Chairman,
This project clearly demonstrated the value of employing the Project Management Services of a company highly experienced in Geomembrane Engineering but independent of liner manufacturer's influence. "Liner material manufacturers promote their particular liner material on a, 'one size fits all basis' with strong influence on lowest price per square metre". says John Alexander.