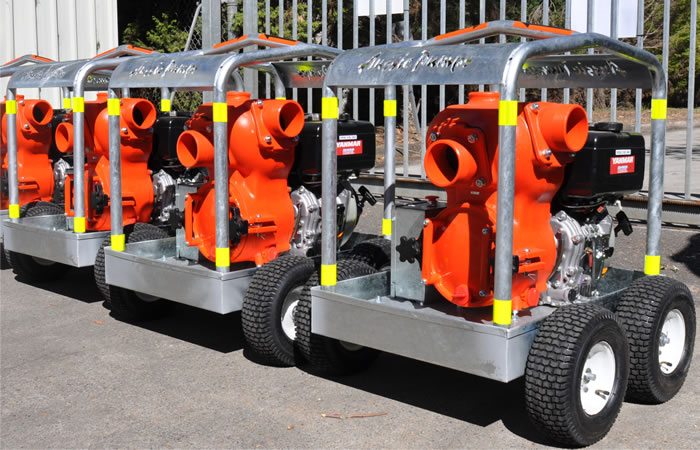 A new heavy duty trolley- mounted 4 trash pumps Power Equipment Australia's 'Hire Product of the Year' is referred to as "Aussie Site Boss". The pump is designed for tough dewatering and water supply applications for hire, construction, mine and quarry markets.
The new trolley mounted machine was designed by Australian Pump to align with new OH & S rules relating to the movement of the equipment on site.
According to the Product Manager, Brad Farrugia, "Traditionally pumps of this size would be moved around by 2-3 site workers or lifted by an excavator." The good news is, the new trolley mount machine can be moved safely on site without personal risk or tying up expensive lifting plant. It won the P.E.A. hire Product of the Year for the year ending 2013 against a tough line up of products from Husqvarna, Hyundai, Makita and Powerlite.
The heart of the system is the self-priming centrifugal pump designed to pass solids in suspension. It is powered by a 10 hp Yanmar electric start air cooled diesel engine and built into a super heavy duty 38mm galvanised steel frame. The frame has a lifting bar and the base incorporates a bunded tray to capture engine oil or fuel spills. The base is also a platform for the trolley with 4 big pneumatic tyres and 13" wheels which enables the pump to be easily moved on site. Chocks are standard equipment for security during operation.
With a maximum flow of 1800litres per minute and a maximum head of 24metres head, the big 4" Aussie is ready to take on just about any quarry or construction dewatering task. It can also be used to fast fill tankers or water carts for dust suppression!
The pump features excellent self-priming characteristics with a vertical suction lift of 7.6metres! Battery isolation, emergency stop, integrated fire extinguisher and safety tags are all standard equipment. It is designed with safety and operator convenience in mind. It is the world's best and first to have been successfully marketed outside Australia with sales to Europe and the Middle East!
"We are proud of having won The Product of the Year in the hire category from Power Equipment Australia. It is a great endorsement of our design team and our belief in Australian companies being able to innovate to build better products and win international market share," said Farrugia.