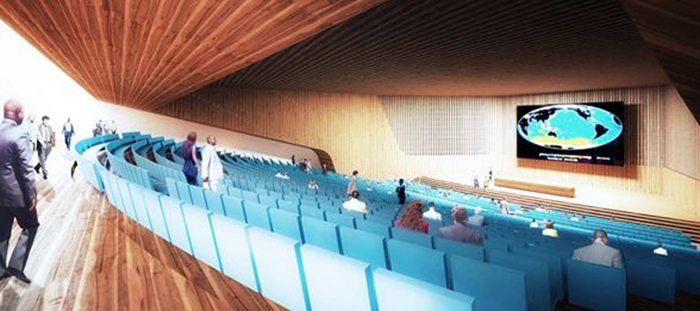 Work on the Calabar International Convention Centre scheduled for completion in 2015 is well underway. The Center designed by world reknowned Danish architects, Henning Larsen and built by Bouygues Construction is touted to be the first purpose built conference facility in Nigeria.
The Calabar International Convention Centre consists of four adjoining, sculptural volumes. The building is situated on top of a hill and has a panoramic view from the foyer. On the one side, the location on the middle of the hill creates a natural amphitheatre with room for several thousand people. On the other side, you have a spectacular view of the river delta.
The facility will be able to accommodate events, including international congresses, corporate conventions, and government retreats. The new building can host 10 to 2,000 delegates, exceeding 5,000 seats in 21 different venues.
Recently, the contractor removed the propping supporting the concrete structure for the first time, revealing the free standing concrete structure.
During a small celebration on site to congratulate the project team on achieving this significant milestone, the Governor of Cross River State Sen Liyel Imoke said the convention centre will be a catalyst for economic growth in the state, attracting tens of thousands of delegates from all over Nigeria and around the world.