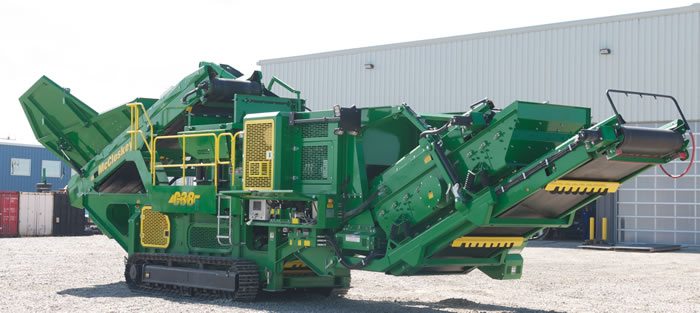 High Power Equipment Africa – HPE Africa – distributes a wide range of earthmoving equipment, which includes mobile crushing and screening units, as well as hydraulic hammers and drills.
"MB crusher buckets, McCloskey mobile crushing and screening plants and Soosan hydraulic hammers and drills, available exclusively in Southern Africa from HPE Africa, ensure efficient performance and extended service life in harsh operating conditions," says Dave Davel, product specialist, HPE Africa. "This robust crushing and screening equipment is suitable for small, medium and large scale projects in mining, quarrying, construction, demolition, recycling and agriculture."
MB jaw action crusher buckets are designed for on-site crushing of inert materials and unlike other crusher buckets on the market, this range is also able to process and crush material containing rebar steel. Iron separators efficiently divide various iron elements, including concrete and steel, during the crushing process. For this reason, these crusher buckets are ideal for aggregate and demolition applications, where volumes of 35 m³ to 50 m³ per hour are required.
Because material is crushed and re-used on site, the need for machinery dedicated to various processing stages is reduced, transportation costs are minimal and dumpsite fees and double handling is virtually eliminated.
These crusher buckets are easily attached to excavators, from 20 t to 36 t, using specially designed mechanical or hydraulic universal quick couplers.
An important unit in the McCloskey range is the C38R recirculating cone crusher, with key features that include a metal detector, an anti spin system, integrated hopper and fully hydraulic push button and relief system, with load and material level monitoring.
These Telsmith 38SBS cone crushers, which are powered by CAT C9 Tier 3 engines, accept a material feed size up to 200 mm and offer a throughput tonnage up to 220 tph, depending on the closed side setting. The single deck recirculation screen on the same chassis allows oversize material to be returned to the crusher feeder which prevents material oversize wastage and significantly reduces operational costs – there is no double handling and all tasks are handled on one chassis.
McCloskey heavy duty track mounted recirculating cone crushers have important safety features that include a start siren, emergency stops and engine shutdown systems. The screen attachment to the chassis has a bolt-on design for quick screen media change. For effortless maintenance, there is an open chassis design, external belt alignment and visible centralised grease points that provide easy access for routine maintenance.
The units have four jacking legs on each corner to stabilise the crusher in uneven terrain. The tracks are bolt on, rather than weld on. The advantage is, in the event of a track problem, the crusher can simply be jacked up and the entire track, including final drive, is removed and transported to the workshop for repair, without any disruption to crushing operations.
A key feature of the McCloskey mobile range is the over-ride system which is activated in the event of a sensor failure.
more
hpe-africa-crushing&screening-equipment…three
Optional features include a roll-in bogie system, hopper extensions, a water pump and dust suppression system and the option of course, medium and fine liners. Wear parts are available locally.
These machines are designed to withstand operation in environments with extreme variances in climatic conditions and terrain.
HPE Africa's range of Soosan hydraulic breakers includes the recently launched SU+ series, which has been designed with a higher power to weight ratio and increased impact frequency for greater production efficiency. The newly developed bounce controlled percussion system minimises recoils during hammering work to reduce damage at the hammer and carrier, also improving operator comfort.
A thermal stress analysis system controls heat generation and prevents the breaker from excessive heat. As a result, breakers maintain a constant percussion frequency at high temperatures. Greater accumulator capacity ensures a stable hydraulic system, with reduced surges. A valve adjuster allows oil flow to be altered to suit on-site working conditions.
A new anti scratch system allows safe operation and durability, even in harsh working conditions and specially developed devices prevent foreign substances flowing into the cylinder. A pressure resistant hydraulic hose reduces vibration and extended tool bushing prevents damage to the piston and cylinder caused by misaligned tool hammering.
Applications for these hydraulic breakers include primary and secondary breaking in quarries, site preparation and foundation work, road construction, trenching, tunneling and bench leveling, as well as general construction works.
hpe-africa-crushing&screening-equipment…four
This range is compatible with TLB digger loaders, as well as 20 – 36 ton excavators.
HPE Africa enhances its extensive product range with technical expertise and a reliable support service throughout Southern Africa.