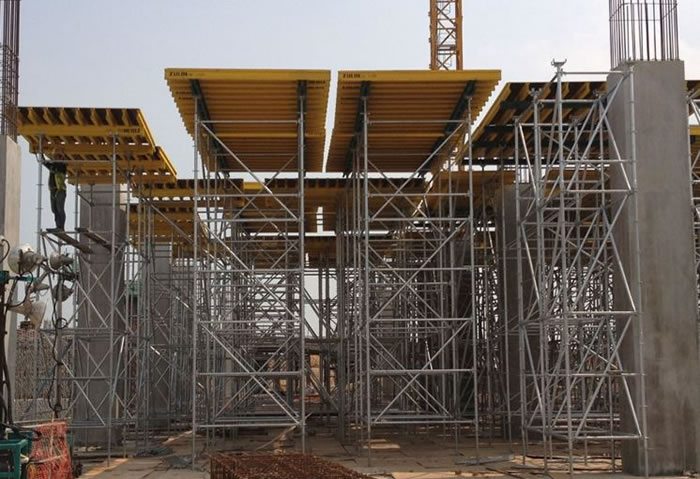 Musandum Group of Companies represents a number of companies in the UAE, Oman and Qatar and which operate internationally. This group of companies provides solutions for the oil & gas, petrochemicals, waste water, fabrication, and processing industries.
Multi-Lock Slab Formwork
Introduced for the first time in the United Kingdom, this formwork system is cheap, simple and fast in erection and dismantling, and many people already have knowledge in its use. The system is applied in civil engineering due to its benefits.
Multi-Lock Slab Formwork consists of steel tubular components and vertical and horizontal frame member locking connections both on top and bottom. Included in the system are screw jacks for adjustment and leveling, drop-head with jack adaptor, decking and infill beams under the plywood. The frame system is made up of 48.3mm diameter tube both for horizontal and vertical components, which makes it stabilize under force.
After a few days one can remove the decking and infill beam located under the plywood once the slabs have been poured. To do this, one strikes the drop-head wedge. Through a suitable bracing system, one can adjust the space between posts or standards so as to vary stability and strength of the system.
Scaffolding: Cuplock system
The system is one of the most efficient systems used in supporting and is economical, versatile and simple. Compared to other scaffolding systems, it can be erected faster due to its having a unique node point connection.
Decking Systems
Musandum Group of Companies also provides decking systems that can be used for reinforcing concrete suspended slabs in construction. Different support modules are availed by different sizes of primary and secondary beams. The company also provides drop heads and cantilever elements for scaffolding, Light weight access scaffolding – H-frames, and scaffolding props. The company also provides scaffolding rentals.
In oil and gas, the company provides products such as heat exchangers, boilers, pressure vessels, pumps. In waste water, the company supplies products such as Tube Settler, HRSCR Clarifier, Electro Chlorination, Ultra Violet, Micro/Ultrafiltration and Media Filtration / Organic Scavenger pretreatment technologies. Others include MBR Treatment, Extended Aeration and Odour Control System waste water control systems, among others. Apart from UAE, the comoany products (certified by BS and EN standard) are available in Africa.
Contributor,
Sailesh Jotwani,
Marketing Manager, Musandum International General Trading,
[email protected]
www.musandum.com