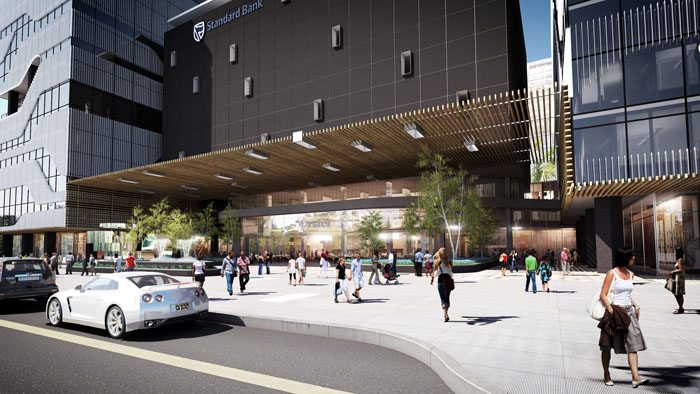 Redefine Properties' environmental sustainability application of "Green Buildings" principles across its national portfolios will see a major transformation of the The Towers (previously Standard Bank Centre) in Cape Town's CBD to meet the most innovative green building standards.
The project has been chosen to form part of the Green Star SA Existing Building Performance pilot programme.
Speaking at the start of the Green Building Council of South Africa's (GBCSA) 7th Annual Convention in Cape Town this week, Xander Rau, Regional Development Manager of Redefine explained, "A commitment to being a responsible developer means upholding the principles of the GBCSA. A truly green building should incorporate not only environmental design, but should also aim to make the least impact on the environment by maintaining peak renewable energy and resource efficiency.
"By keeping in tune with environmental innovations and trends, Redefine Properties is able to offer tenants the latest cutting-edge technology in our new and existing buildings. In this way our properties rely less on the grid and our tenants benefit financially too".
According to Rau, "Cape Town has always been among the most environmentally aware cities in the country, and this is probably understandable given the rich environmental diversity of the region. Capetonians are more conscious than most of the need for and benefits of environmental sustainability, saving electricity and other green initiatives."
In addition to new developments and upgrades in Johannesburg, Redefine Properties is currently transforming several buildings in Cape Town.
The 'green-over' of the The Towers will include a new flushed glazed system on its external façades that will reduce the cooling demand by approximately 30%. Redefine is also currently investigating the installation of photovoltaic solar panels on the tower roofs, to save energy.
The common areas of the building have been fitted with energy-efficient lighting using timer controls and the lights in these areas will be automatically switched off when not in use.
Redefine Properties has already achieved a 4-Star Green Star SA rating from the GBCSA for the design of its 90 Grayston development in Sandton, which has been recognised as one of South Africa's most innovative and recognisable buildings and has further green buildings and green star submissions in the planning phases.
Recently, a number of buildings have been star-rated as having become green buildings.
Similar Posts: