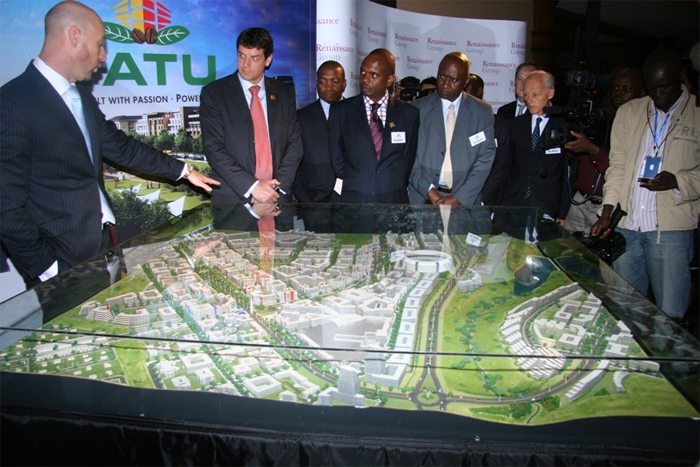 Construction of the Tatu City has begun after extensive wrangling that now delayed the Kiambu county-based project for four years. Tatu is a residential complex invention that will be set up on 2, 500 acres of land, and will be the first privately managed city in Kenya.
Court cases involving ownership have led to stalling of the Tatu City project after commencement in May 2011, of a project that was conceived in October 2010. Its development strategy has been re-assessed according to Chief Executive of Tatu City Ltd Lucas Omariba, who adds that the project has now resumed on track. Tatu city is a city planned 15 kilometers away from Nairobi, Kenya.
Omariba said this week, "I am happy to inform you that we have now commenced development of infrastructure for the first two phases of our development." Access roads to the city will be built by Sinohydro Tianjin Engineering Co., a Chinese firm awarded the contract by Tatu City Ltd. this will constitute the Phase I of the project, after which civil works will be carried out to service the plots on which developments will be set up. The latter will be done before the end of the year.
Apparently, those wishing to participate in the project development will have an opportunity to purchase space at US$ 258,137 per acre. Already, 18-five acre plots are available for buyers. Individual developers will also have access to a 150-acre gated community, the Kijani Ridge, one of the planned portions at the city.
Tatu city will be constructed in 10 phases until 2022, when it is set for completion. The mixed-use satellite city will house 77,000 residents, and will tap on the city economies in the country, amidst growing middle-class and urbanization trends. It will be a decentralized urban center.
The ambitious plan is a partnership venture between Renaissance Partners, the principal investing arm of emerging markets firm Renaissance Group and Kenyan investors. In addition to Tatu city, Kenya is also into an ambitious plan to constructing a techno city, Konza, a US14.5bn project whose Phase I has already kicked off.