Inside Europe's largest construction project
Europe's largest construction project is now over 60 percent complete! Crossrail, which entails development of over 100km of rail and 40 stations, is set to transform London's railway transportation by reducing travel times and increasing railway transport capacity by 10%. By comparison, the Gautrain project in South Africa covers 80km and boasts only 10 stations, giving an indication of the scale of the crossrail project.
The project involves a route running from Reading and Heathrow in the west, through new tunnels under central London to Shenfield and Abbey Wood in the east.
The new railway system, which is scheduled to start operation in 2018, will have new stations at Paddington, Bond Street, Tottenham Court Road, Farringdon, Liverpool Street, Whitechapel, Canary Wharf, Custom House, Woolwich and Abbey Wood. Over 10,000 people are on the site.
Already, 40km of the 42km underground tunnels beneath London have been constructed. The underneath tunnel is being undertaken by use of eight tunning machines (TBMs). In total, 95% of TBM tunnelling has already been completed and it is expected that work will finish in spring 2015.
Phyllis and Ada tunnelling machines have completed constructing 6.8km of tunnel between Royal Oak to Farringdon, while Elizabeth and Victoria tunnelling machines are now undertaking underneath tunnel construction between Limmo in Canning Town and Farringdon. Construction of underneath tunnel running 2.9km from Plumstead to North Woolwich has already been completed on the South East of London – it was being undertaken by Sophia and Mary tunnelling machines.
Tunnel drives that links Pudding Mill Lane portal near Stratford to Stepney Green from Limmo to Victoria Dock Portal have already been constructed – the work was being done by Jessica and Ellie tunnel boring machines.
200 million passengers will be expected to use the rail annually, a rail that will have an impact on the country's economy since it will link Heathrow, West End, the City, and Docklands.
The £14.8 billion project, which started in 2009, is progressing in 40 construction sites and is expected to be delivered on time. Crossrail stations in central London and Docklands have already been flagged off.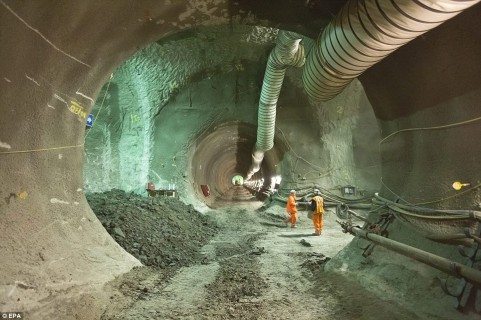 Economic benefits 
UK is targeting to generate £42bn from the massive project that will create several employment opportunities.. Undertaking the project alone has benefitted SMEs, who comprise over half of those subcontracted, as well as businesses outside London.
The project will create 75,000 supply opportunities and support full time employment equivalent to 55, 000 people.
Operational schedule 
Operation of the Crossrail system for service delivery is expected to come stepwise, with full service expected in 2019. Apparently, major civil engineering works and tunnelling is almost through and it is expected that between now and 2017, Network Rail will carry out major upgrading of existing rail network and fit-out of stations. The £300m worth fit-out project will be undertaken by Costain Ltd in a joint venture with TSO and Alstom Transport. Existing suburban trains between Liverpool Street and Shenfield will start to be replaced in 2017 by first new Crossrail rolling stock.
It is expected that the mainline platforms from Heathrow to Paddington will open its service in May 2018 as the first section to go online, while Paddington (Crossrail platforms) to Abbey Wood will open service doors in December 2018. Paddington (Crossrail platforms) to Shenfield is expected to come online on May 2019, while the full through service (including Berkshire stations) will start operation in December 2019.
In order to be operational the Crossrail will need 65 new trains, and each will be 205 metres long and capable of carrying 1,500 passengers. Bombardier Transportation will be supplying the rolling stock and depot after winning a contract worth £1bn from Transport for London. The company will also be undertaking maintenance of the rolling stock and depot to be Old Oak Common – all for 32 years. They will supply the stock progressively to see service delivery, starting with Great Eastern Main Line in May 2017.
The company will manufacture and assemble the trains at its plant in Derby. UK economy will benefit from this contract by 74% and will generate 760 jobs in the UK manufacturing sector and 80 apprenticeships. 244 jobs and 16 apprenticeships will be generated through Old Oak Common depot maintenance.  Bombardier Transportation was also involved in the Gautrain project.
Fit-out works 
Fit-out of the tunnel will be carried out to install 40km of track and overhead electric conductor rails that will power the trains. Also part of the fit-out will be installation of drainage systems and ventilation works.
The entire tunnel will need to be installed with 40km of fire mains and lighting, 48 ventilation fans, 40km of walkways and 66 drainage pumps.
Signalling 
Siemens PLC and Invensys Rail Limited have, in a joint venture, already won a signalling contract for the railway system. The signalling contract will see installation of Automatic Train Operation so that the trains will deliver "a high-frequency metro service." In particular, it will support service by 24 trains per hour at peak times between Whitechapel and Paddington. The central section is however planned to operate with 30 trains per hour at a later date.
Contracts
Various construction contracts have been given to various companies and in sections. The following companies will undertake the construction of various stations along the route:
Paddington station: the main construction contract has been awarded to Costain Skanska JV
Bond Street station: main construction contractor – Costain Skanska JV
Tottenham Court Road station (western ticket hall only): main construction will be done by  Laing O'Rourke. A separate contract awarded by TfL for eastern ticket hall.
Farringdon station: main construction BAM Nuttall, Ferrovial Agroman (UK) & Kier Construction JV
Liverpool Street station: main construction contract – Laing O'Rourke
Whitechapel station: main construction awarded to Balfour Beatty Civil Engineering, Morgan Sindall & Vinci Construction UK JV
Canary Wharf station: being delivered by Canary Wharf Group for fixed price of £500m. Canary Wharf Group will also contribute £150m towards the £500m cost of the station.
Woolwich box: construction undertaken by Berkeley Homes
Western tunnels (Royal Oak to Farringdon) + Early Access Shafts and Sprayed Concrete Lining Works for Bond Street and Tottenham Court Road stations tunnels: BAM Nuttall, Ferrovial Agroman (UK) Ltd, Kier Construction Ltd
Eastern tunnels (Limmo to Farringdon, Limmo to Victoria Dock, Stepney Green to Pudding Mill Lane): Dragados S.A., John Sisk & Son (Holdings) Ltd
Thames Tunnel: Hochtief Construction AG, J Murphy & Sons Ltd
Connaught Tunnel refurbishment: Vinci Construction UK Ltd
Project Funding 
The mode of funding will invite the collaboration between the private and public sector. The UK ggovernment, Mayor of London and London businesses will together be contributing a total of £14.8 billion for the Crossrail project, with the amount including possible contingency and expected inflation costs. The amount was arrived at through a Comprehensive Spending Review done in October 2010.
According to the funding framework, £7.1bn will come from the Mayor of London, through Transport for London (TfL) and the Greater London Authority (GLA). A grant of £4.7 billion will come from the UK government through the Department for Transport, while £4.1bn will come from London businesses through Business Rate Supplement and other modalities.
£2.3bn will be spent by Network Rail on improving the current rail network. The amount comes from projected operating surpluses of income from use of Crossrail services. Key beneficiaries of the Crossrail network, including City of London Corporation and Heathrow Airport, are likely to also provide additional funds for the project. In total, Londoners and London businesses will contribute 60% of the cost.