A new pedestrian and cycle bridge to be built across and over M1 highway  in order to link Alexandra and Sandton is set to be completed in 2017 and help in spatial integration of Johannesburg. The bridge, which in total comprises of construction of dedicated cycle lanes and 30km of new pavement, will be a great move towards Joburg's investment in non-motorised forms of transport.
The new bridge features a new modern design and will be supported by upgrading of public environment. In addition, street furniture, lighting and traffic calming measures will be improved in the neighboring streets.
It will connect No 3 Square in Alexandra and Linden Street in Sandton and will also improve safety of travelers. It will also improve Grayston Avenue traffic flow. It is also part of Phase 1C of the Rea Vaya Bus Rapid Transit programme, an initiative expected to link Alexandra, Sandton, Randburg, Greenstone, Ivory Park, Rabie Ridge and Midrand to the north-east quadrant of Joburg city. MMC Walters has said it exemplifies the long-term transport and spatial development plans by the city.
The new bridge, to be named "Great Walk" fits in the planned City's Corridors of Freedom master plan, according to Councillor Christine Walters, the Member of the Mayoral Committee (MMC) for Transport. The new master plan is expected to replace apartheid spatial planning. It also augments well with the "complete street" concept, a modern trend in urban designing.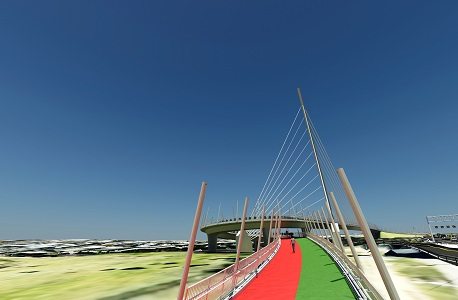 The "complete street" concept seeks to develop infrastructure that serves community rather than the private transport user. In addition to combating change of climate, the shift in public transport will reduce carbon emissions.
JDA senior development manager Siyabonga Genu noted that the bridge structure will have separate 3 meters wide cycle and pedestrian walkways, solar power street lighting, stalls for hawkers and street furniture.
The bridge is being built by Murray & Roberts as the contractors and was designed by Royal HaskoningDHV Group.