Karibu Homes Riverview affordable housing project 
Athi River is an expansive area in Machakos County, about 35 kilometres south of Nairobi. Like other areas surrounding the Kenyan capital, Athi River has seen massive development in recent years with multiple residential projects coming up. Industries have not been left behind either with manufacturing companies setting up plants while others have put up godowns.
Because of Athi River's easy access to Nairobi via Mombasa Road and the new Syokimau Railway, home buyers are increasingly finding the area attractive. But the principal reason is the affordability of homes owing to the fact that land is still relatively cheap and available as opposed to the situation in Nairobi suburbs. Another attraction to the Karibu Homes Riverview affordable housing project is the serene views and a feeling of country living yet being in close proximity to the capital city.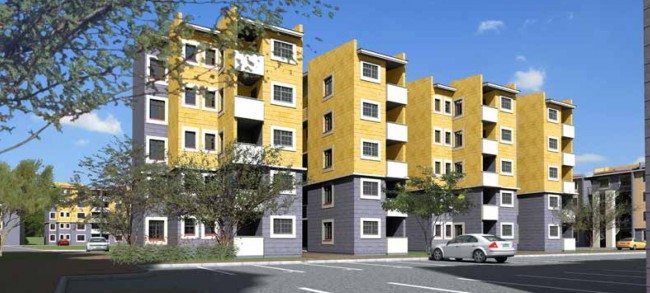 Developers in the area have come up with homes targeting both young and established families. Many of these developments are apartments, bungalows and maisonettes.
Karibu Homes is one of the developers providing affordable housing in Athi River. Their project, Karibu Homes Riverview, is a massive 1080-unit development set on 20 acres.
Founded in 2012, the company aims at providing affordable but commercially viable homes to families and individuals in the lower echelon of the income ladder. "We also believe that home ownership provides security, stability, a foundation from which a family can develop, a sense of community besides being a viable appreciating asset", says the developer.
Karibu Homes Riverview affordable housing project consists of two house types of 1 to 3 bedrooms. They have been named Athi and Tana. According to Karibu Homes, the Athis are designed and priced specifically for first time home owners and families.
"We have reduced the finishes to allow for a better price by removing the tiled floor and providing a coloured screed finish so that buyers can opt to enhance the unit over time and when they can afford it. The same applies to fitted cupboards and kitchen storage. This allows buyers to get out of a rental situation and onto the housing ladder quickly while also allowing families to incrementally finish the unit. The Tanas are fully fitted and priced to reflect this (they come with tiled floors and fitted kitchens)." Say the developers.
Features/Amenities
The development comprises three phases spread over nine courts. It is designed with the family in mind and therefore provides a great living environment. Features include:
–          Shops as an integral part of each phase
–          Green spaces including large open space for weekend markets and exercise
–          Community hall
–          Half basketball courts
–          Nursery school/crèche
–          Health centre
–          Boundary wall (gated community concept)
–          Riverside walks
Others include boreholes, underground water storage (100,000 litres for each phase), overhead water tanks, 3-phase electrical connection to each phase and secure entry and exit points. A spine road will service the development to allow for such services as garbage collection and emergency vehicles.
As part of the green considerations in the design, rainwater run-off will be used for landscaping while solar water heating will be availed. In addition, the development will be served by EPZ sewer and therefore no need for septic tanks.
Master planner and landscaper, Arthur Adeya of Lexicon + Ion, made a detailed landscaping design with indigenous trees suited to the Athi River environment. He also made extensive use of yellow stone in the development and employed bearing walls as opposed to columns to keep costs low and maintain a user-friendly design.
The whole master plan and design had been reviewed by Arup International to ensure that the development met international standards.
Challenges
The challenges encountered are not much different from what other projects are faced with. Approval from local authorities is almost always slow and cumbersome. However, Karibu Homes have good consultants who expedited the process. Another hurdle was project finance which can be very expensive in Kenya. The developer nevertheless did manage to team up with reputable financiers who also have expertise in housing thereby creating a winning team.
Groundbreaking of Karibu Homes Riverview took place at the beginning of September last year with the first units expected to be ready for occupation by March 2016.
Project Team
Client: Karibu Homes
Architect: Lexicon + Ion Designs
Services Engineers: Gill Consult
Quantity Surveyor: Tandem & Stark
Main Contractor: Sichuan Huashi
Selling Agents: Karibu Homes and Fortress Consulting
Financing: Shelter Afrique