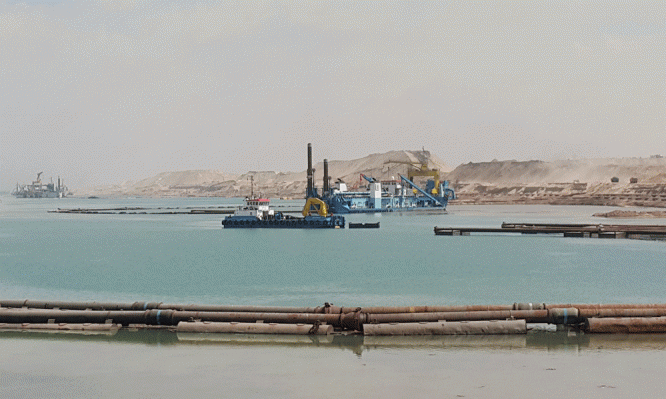 Egypt's construction of the New Suez Canal project involving expanding the waterway commonly known as Suez Canal has been completed and will be inaugurated on 1st August.
According to the contractors who won the contract for Egypt's construction of the New Suez Canal the UAE-based National Marine Dredging Company (NMDC) the construction of the $1.5 billion New Suez Canal project has been ongoing smoothly and first operation is expected to be kick off once the inauguration is done.
Engineer Yasser Zaghloul, CEO of NMDC said that they have realized they can make it by completing the project within the required timeline.
The company said they have already carried out a successful navigation by ships in the new water way and they have proved that both directions are workable and the waterway will start its operation in August.
Yasser Zaghloul also said that Egypt's construction of the New Suez Canal project has been already proved to work as they have already used six ships container ships from around the world that successfully sailed to ensure that the canal is ready for use.
Tjsi comes barely months after the NMDC won the contract to build the water way project commonly known as the suez Canal after a stiff completion from the world's largest marine dredging companies such as Netherlands's Boskalis and Van Oord and Beligum based one Jan De Nul
NMDC was tasked to undertaken Egypt's construction of the New Suez Canal which was thirty five kilometers long with a depth of twenty four meters and three hundred and seventeen meters width.
The contractor faced pressure when the Egyptian President reduced the construction time for the project from three years to one Year.