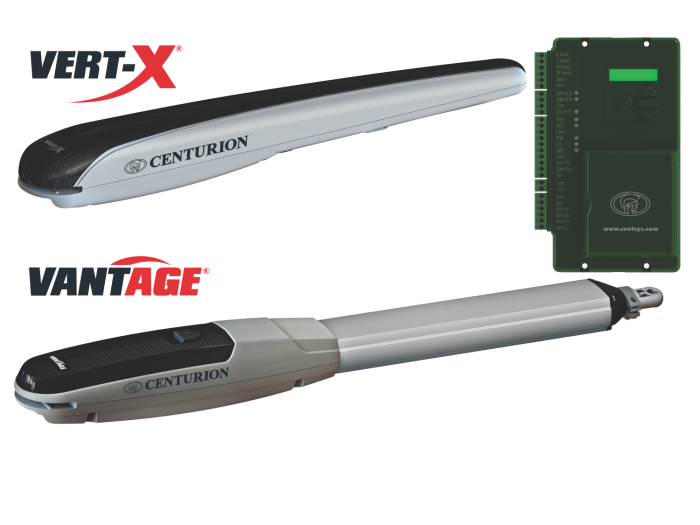 We are no longer creating mere homes. We are creating worlds, veritable microcosms resplendent with functionality and convenience, monuments to Man's inborn desire to be the master of his surroundings. Much like an artist poring with furrowed brow over a blank canvas, we tackle each new construction project with an eye on creating something that is beautiful as well as functional, applying brushstrokes of technology in order to paint the complete picture: security, convenience, aesthetics.
Gate automation offers the most colourful and varied pallet in this arena, complementing homes and businesses with regards to security, with regards to functionality and with regards to aesthetics. Centurion Systems has been manufacturing reliable and feature-rich access automation products for the past three decades, and has more than earned its reputation as South Africa's foremost provider of hi-tech automated security solutions. The company's wide range of products for controlling the access of people and vehicles into domestic, industrial and commercial properties has seen widespread popularity and nowadays the name 'CENTURION' is instantly associated with the feisty green gate motors automating homes and businesses around South Africa and the world (green being the company's corporate colour and, following its recent branching out into the world of solar, an integral part of its design philosophy).
During the month of May, CENTURION successfully launched its two brand new swing gate motors for domestic and light-industrial applications – the VERT-X and the VANTAGE – in a series of roadshows that saw installers of security equipment being introduced to what is undoubtedly the future of gate automation. These operators boast tough-as-nails aluminium construction throughout, slim-line looks for a wholly unobtrusive installation as well as the incredible functionality – including multiple operating profiles, adjustable speed and advanced diagnostics, all via a user-friendly LCD interface – that has made CENTURION a household name.
According to Centurion Systems' Marketing and Sales Director, Richard Rohman, 'both products are leading edge in terms of their looks, which is becoming a critical requirement in the design of gate motors. Particularly with swing gates, where the operators are more exposed to the user, the requirement is for something that is modern, sleek and befitting the construction of the gate. You just have to look at the VERT-X and the VANTAGE to know what we satisfy this requirement'.
He goes on to say that 'the products are built almost entirely using an aircraft grade of aluminium, to be not only strong, but also styled and constructed to look strong and give the user that secure feeling that they are up to the task of swinging their gates robustly and reliably today, tomorrow and for many years to come.
The benefits offered by gate motors are manifold and, in this article, CENTURION unpacks some of these benefits.
Safer
The obvious detriment to one's lumbar region aside, getting out of your vehicle to open a gate can be extremely hazardous from a personal safety perspective.  We've all heard of people getting hijacked or attacked while opening their gates.  Having a gate motor installed may not eliminate this possibility entirely, but it will certainly reduce the likelihood.  Some modern gate motors have adjustable speed settings, meaning that you can have your gate open and close rapidly and thus reduce the time that the gate is open and also the time that you are stationary in your vehicle.  There are also some particularly advanced operators with innovative features such as beam automatic closing, whereby the gate closes the moment that the safety beams have been cleared.
Convenient
Why go through all the effort of stopping your car, getting out, and then straining your poor, long-suffering back just so that you can get into your own property?  It is certainly much more convenient to simply press a button and let your gate motor do the rest.  Gate motors also offer you considerable freedom when it comes to the manner in which you will activate it, since you can connect anything from a remote receiver to an intercom and use that as a triggering device.  There are even GSM-modules that allow you to trigger your gate using your mobile phone.  It doesn't get more convenient than that, especially in an age where our phones have become extensions of our arms.
Versatile
Yes, gate motors do open and close gates, but there are several models on the market that do so much more than that.  Some models provide onboard timers, allowing you to set automatic activations or to bar certain inputs from working at set times, while others can be interfaced with third party alarm systems and infrared beams so that you're notified when would-be criminals are loitering in front of your gate.  It's easy to see how a device that once had a singular purpose has now become a compact electronic defense force.
Total control
Access control is rather a broad term and can refer to any number of devices including keypads, proximity card readers, GSM-modules, traffic barriers and of course gate motors.  The wonderful thing about access control is that it affords you total control over who enters (or leaves) a property.  Some variants, particularly proximity tag readers, can be interfaced with computers and allow the user to upload transaction logs, edit functionality remotely, selectively add and delete users, etc.  This does its bit for convenience as well as security.
Innovation in the field has also ensured that no matter what your automation requirement – whether you have a swing or sliding gate, light or extremely heavy, whether you require automation for your home or business – there is bound to be a gate motor and/or access control system out there for you.
For more information, visit www.centsys.com.