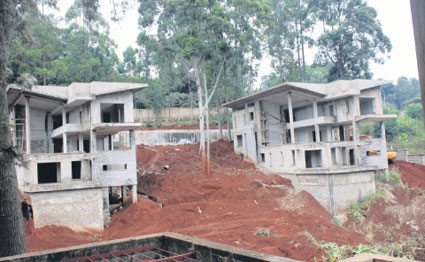 Nairobi County officials have stormed a a site where construction of villas on wetland in Kenya was underway. The officials stopped the construction and arrested two people including a manager of the company developing the property and a guard.
The construction of the  Alina villas located at Kibagare Valley in Lower Kabete in Nairobi has been involved in court battles with the Land Ministry.
The move to stop construction of villas on wetland in Kenya comes after National Environmental Authority (NEMA) officials also stormed the site and made two arrests.  The environmental body had issued an order stopping the construction that was later challenged by the developer of Alina Villa.
On its part the Lands Ministry had opposed the construction of the villas on grounds that the site was a wetland. The then Land CS Charity Ngilu had visited the site to ensure that the directive was being followed.
The manager of Sound Equipment a company that is constructing the villas said that their decision to proceed with the project was informed by a court order that they obtained restraining the Lands Cabinet Secretary from interfering with it.
The Nairobi County government has pledged to crack the whip on illegal constructions in the country citing safety measures. Early this year, more than four people died and several others injured after a six-storey residential building collapsed in Nairobi.
The incident prompted officials from the National construction Authority of Kenya to undertake a thorough inspection of constructed buildings across the country to ascertain safety. Consequently over 500 construction projects were forced to suspend their activities.