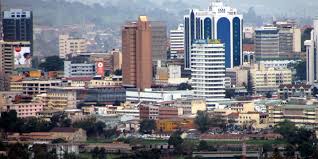 The Uganda Society of Architects (USA) has urged the Ugandan government to employ more architects at different urban authorities so as to improve the design of structures in the country.
Robert Kiggundu, president of USA requested this during the 11th African Union of Architects Congress (AUA) at Speke Resort, Munyonyo. He further said that the despite the existence of laws that requires all urban authorities to have an architect as a salaried member of staff, it is only Kampala Capital City Authority (KCCA) that is known to have only one architect.
"Every urban authority is supposed to have an architect to make proper design plans on how and where structures are supposed to be constructed. However, only KCCA is known to have an architect, but one architect is not enough for a city as big as Kampala," said Kiggundu.
It has been a point of concern because of the high number of unqualified people who keep on masquerading as architects and designing buildings or selling plans downloaded from the internet. Further to that the public in some cases officers of both the central and local governments continue to treat architecture as a peripheral profession to the extent that architectural positions are being occupied by unqualified people or those from other professions.
"Buildings continue to collapse after construction, because of the increasing number of masqueraders and this usually leaves us with poorly designed buildings," he said.
The conference which was organized under the theme "Our Architecture, Our Communities, Our Heritage," by Uganda Society of Architects was attended by architects from all over Africa including; Uganda, the host country, Benin, Cameroon, Democratic Republic of Congo, Ghana, Kenya, Tanzania, Rwanda, South Sudan, Nigeria, Tunisia, South Africa, Angola, Algeria, Senegal, Congo Brazzaville, Burkina Faso, Mauritius and India.
This year's congress sought to explore and emphasize the importance of African heritage in the design of the built environments in the face of increasing urbanizations and social pressures.