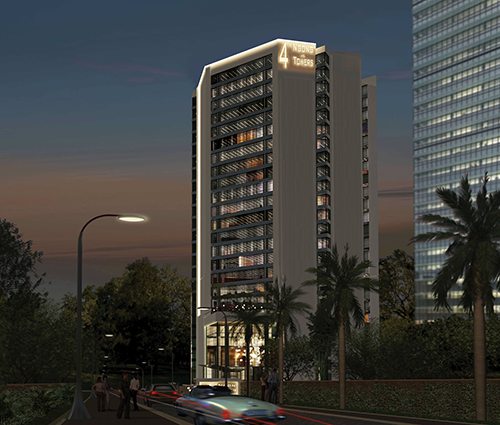 4th Ngong Avenue Towers is the newest office address located in Upper Hill on 4th Ngong Avenue close to where most government offices are located.  It overlooks the CBD of Nairobi and will help meet the demand for office space in this sought after location as most corporate firms leave the congested CBD and opt for the more spaced out, tree lined environment offered in Upper Hill. Designed by Triad Architects the building is another addition to other iconic buildings done over the years by this well known firm of architects.
Triad Architects is a 52 year old firm located in Kenya and over the years, many buildings have been built that have the firms signature such as the historic Parliament Buildings, the skyscraper Times Towers, Barclays Plaza and the National Museum. The firm has had three generations of architects in a period spanning five generations. The two founders, Amyas Connell and Graham McCullough had a vision of a firm that would outlive individuals in its journey to becoming a leader in architecture, design and development in Africa.
Since its inception Triad has undertaken more than 3,000 projects which include Corner House, Loita House, Moi University Margaret Thatcher Library, Nairobi Business Park, Rwenzori House and Court in Kampala, World Agroforestry Centre, British Council Nairobi, CCK Headquarters, Longonot Place, UAP Tower and Bank of Kigali among others. 4th Ngong Avenue Towers is the latest addition to Triad's portfolio located in Upper Hill.
Nairobi has become a prime destination for international firms set on establishing a presence in Africa and sourcing prime office space is therefore essential for such firms. 4th Ngong Avenue Towers will meet this need adequately. Standing at 12 stories the new addition to Triad's stable of buildings consists of 2 towers that offer a total of 10,779 square metres of lettable office space.
Parking space is normally a headache for Nairobi's car owners with over 5,000 cars registered every year in the country and a limited number of parking facilities. It is not uncommon to spend an hour looking for parking space and even when one finds a parking space security against vandalism is always at the back of one's mind. Fortunately for tenants of 4th Ngong Avenue and their visitors, the building also has a 9 storey parking silo that provides adequate parking space and security for 350 vehicles.
As demand for electricity continues to grow rapidly in the country the result has been load shedding although this has become less frequent in recent times. To offer tenants peace of mind the building has back-up generators installed to mitigate against any power outages.
Nairobi is known as the city under the sun and for good reason as sunlight is more predominant on most days throughout the year. To ease the discomfort of direct sunlight on the building, the architect has suitably oriented the building in addition to having Stopsol glass cladding that offers the benefit of reflective glass and privacy for occupants.
4th Ngong Avenue has joined the myriad of buildings available to house large corporate firms that have been relocating from the CBD and offers a unique location close to government offices, hospitals and other essential facilities.