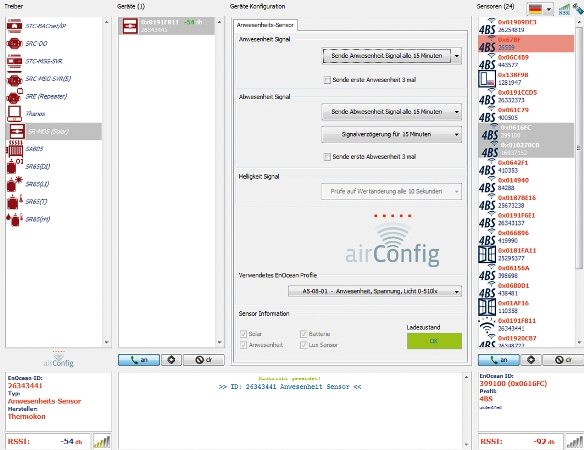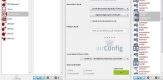 Thermokon has developed the world's first remote commissioning tool for the wireless building automation standard "EnOcean", which is called airConfig.
airConfig uses EnOcean based RF telegrams to configure devices using special remote commissioning commands. airScan USB transceivers and the airConfig software tool allows communication and integration to other devices and networks.
ADVANTAGES
» Seamless learning-in and easy configuration (via RF)
» Saving of all configuration parameters
» Selectable configuration parameters such as telegram wake-up cycles, operating measuring ranges or control of inputs/outputs
» Clearly structured and centralized system information – no need to program every single device
» User-friendly maintenance and support
airConfig – Installation and Configuration
» Configuration of transmitted measured variables (EEP) and sensor parameters
» Learning-in of sensors by Drag & Drop via RF (Remote Management)
» Time Saving (Copy & Paste configuration)
» Remote access to product and project information
» Selectable operating measuring ranges and individual naming of sensors
» Identification function via visual and acoustic feedback of selected sensors
» Possibility of parameterization (Timer, intervals, telegram repetition)
airConfig – Flexibility and Safety
» Structured display of products using the device IDs
» Change of product functions, ideal for inaccessible product installations
» On-site specification changes (changes of parameters) or via remote configuration
» Password protected configuration
About Thermokon
Thermokon has more than 25 years of market experience. Their core competence lies in the sensor technology for heating systems and building automation. All of their products meet the highest technology and quality standards. Thermokon is fully committed to a responsible usage of natural resources and climate protection. By manufacturing energy-efficient sensors, they are contributing actively to a lasting reduction of CO2 emissions.
With headquarters in Germany and locations in Austria, Sweden, China, Switzerland, North America and Norway, a selling agency in Russia and trade partners in many parts of the world, Thermokon has 150 employees, is prepared for the global market and exports into more than 80 countries. http://www.thermokon.de