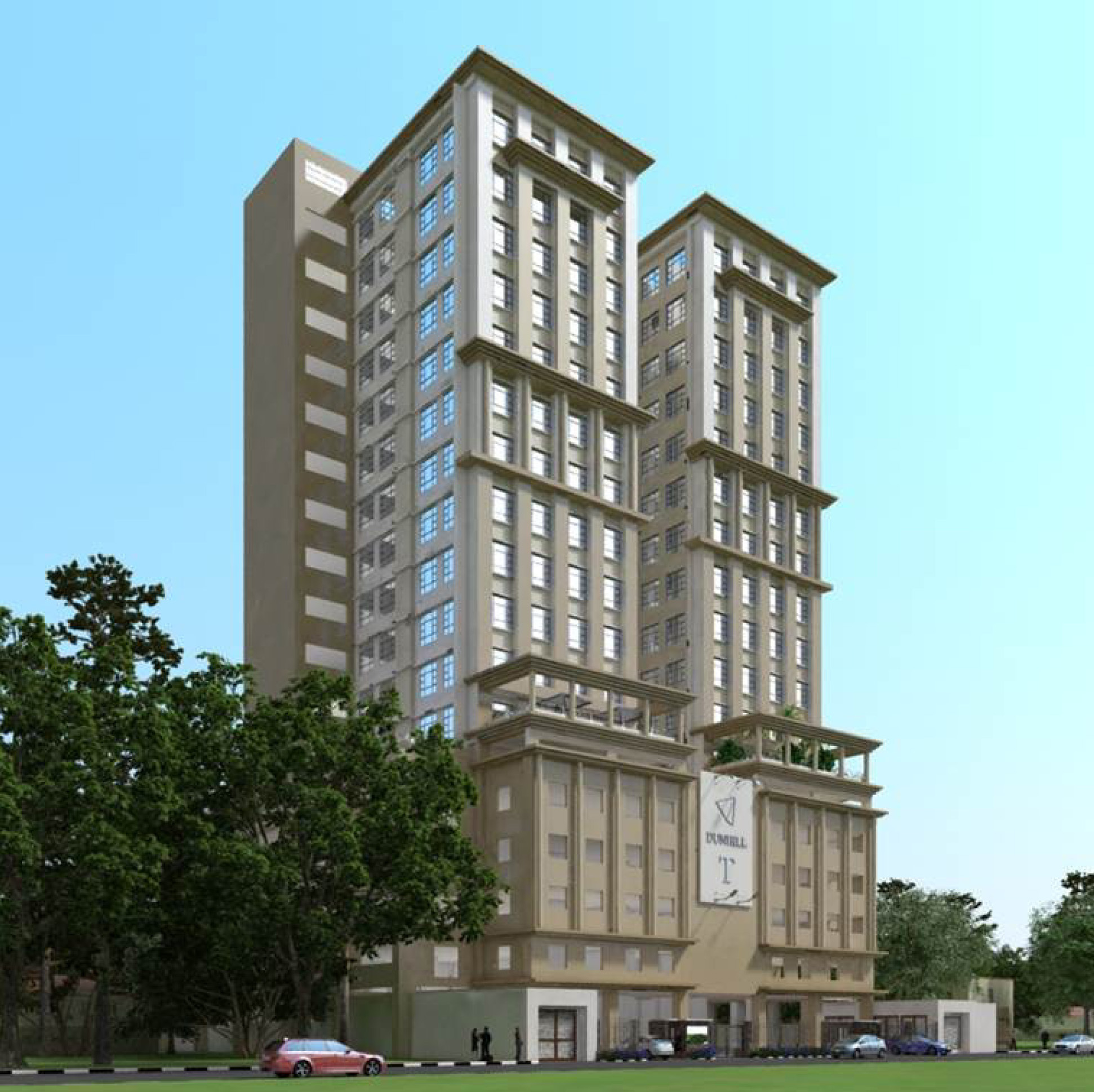 Today's clients will not move into a building for the simple reason that rental or purchase prices are reasonable. They are not merely looking for accommodation for their businesses or organizations. They are also in search of offices that are modern and hi-tech, stylishly designed and those that reflect their businesses.
Dunhill Towers is one such development. The 20-storey office complex is coming up in Westlands, one of the most preferred office locations by many organizations in Nairobi. According to the developer, the tower is a "classical yet modern design that provides warmth and character to its immediate environment with high quality interior and exterior finishes". The developer believes the building's design will enhance the cityscape and provide office spaces with stunning views of Waiyaki Way and the general Westlands area. It will also improve the comfort of those working within it and consequently enhance productivity.
Design Considerations
The architects paid attention to the following factors while designing the building:
–         Adequate natural lighting
–         Effective natural ventilation
–         Spacious offices
–         Minimal heat gain (through use of solar glass)
–         Sun shading ledges
–         Low water consumption
–         Low power usage
–         Expansive views of the surroundings
–         Adequate parking
The main building has been designed as two towers with a common connecting lobby. There are six high-speed lifts and a central staircase to move users within the building.
The external facades have been treated with warm palettes. Large windows on all sides provide sufficient natural light and spectacular, unobstructed views. The windows can also open, therefore improving ventilation.
Because of its green design, the developers are aiming to achieve 4 to 5 star rating.
Layout
In terms of space utilization, the building offers parking on basement and ground floors, with additional parking between 1st and 6th floor.  There are 3.5 tenant car parks per 1,000 square feet with approximately 12,000 square feet per floor of usable office space. Visitors' parking is pooled. Offices take up 7th to 19th floor. The roof level will have water reservoirs and other services.
The common lobby areas make up about 15% of the gross area.
The two towers on a typical office floor are connected by a common lobby with all services incorporated centrally. The design is versatile allowing fit-outs as desired. Each floor has washrooms for male, female and differently abled persons as well as a kitchenette.
Facilities
Dunhill Towers has all the facilities desired of a modern office building.  The building has an intelligent power back-up system to ensure continuity when main power is interrupted. It also has voltage stabilizer equipment, a parking management system, 24-hour security with CCTV back-up and refuse collection services. A borehole on site will ensure that the building's water needs are adequately met.
Dunhill Towers features LED and intelligent lighting system. As a minimum, each tenant is expected to install LED lighting in within their space.
Other attractions include a virtually column-free design, intercom connectivity and fibre-optic cabling.
Timeline
The project commenced in February this year and is scheduled to be handed over in May 2017. More information may be obtained from the letting agent by writing to [email protected] or visiting www.dunhillconsulting.com.
Project Team
Client: Black Gold Ventures Limited
Project Management Team: B. Doshi, N. Shah, Tina Ndirangu – Dunhill Consulting
Architect: Guru Manku/ TarvinderSembhi – Studio Infinity
Mechanical Engineer: Mustafa Zoeb – EmPlan Consulting
Electrical Engineer: Ravi Pattni – Emplan Consulting
Structural Engineer: Khalid Alkizim – Metrix Intergrated
Quantity Surveyor: Eddie Otieno – Target Cost Management
Green consultants: Elizabeth Chege/ John Mulatya – Web Limited
Main Contractor: Hirji K. Seyani – Seyani Brothers Kenya
Electrical Sub contractor: Pitu Mehta – Mehta Electricals
Plumbing Sub contractor: Abhijit Patel – Plumbing Systems
Selling Agents: Dunhill Consulting