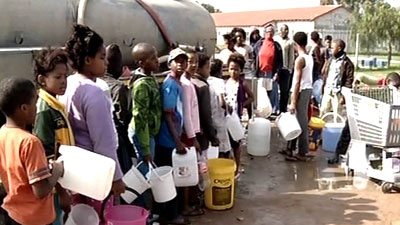 Water conservation campaign in South African province Gauteng has been adopted as it struggles to save its remaining water supply and to have efficient provincial response to the water challenge it is currently facing.
Four provinces in South Africa namely Limpopo, Free State, Northwest and KwaZulu-Natal have already declared drought as a disaster.
The Gauteng Province Water and Sanitation Forum on Monday held a meeting in a bid to devise and adopt water conservation efforts.
The forum aims at making water conservation a key activity of the province and in the long run manage water supply which has since become a menace to the province.
Speaking tersely after the meeting, Gauteng MEC for Cooperative Governance and Traditional Affairs Jacob Mabolo said the forum has already put up a task force in preparations for the launch of the water campaign.
"We call upon different stakeholders especially those with high water consumption. We will deliberate on the significance of water conservation and also create public awareness on the same.
Community Development Workers are going to be the key players in the campaign and will get empowered with the necessary information to enlighten the society on the need to conserve water,'' MEC Mabolo said.
The campaign which entails six critical elements with the war on water leaks at the forefront followed by water harvesting is set to be launched on Thursday in Johannesburg.
MEC Mabolo also said Gauteng should have the capacity to transfer water from other sources and not only rely on Vaal River.
He reiterated that if drastic measures are not employed, drought will put immense pressure on water supply.
Rand Water Board chairperson Advocate Matshidiso Hashatse said the Vaal Dam capacity is currently sitting at 58.9%. She added that Gauteng still has enough water at the moment to meet the needs of the citizens.
"We still have capacity to transfer water from other sources other than Vaal River in order to supply Gauteng,'' She said.
"Consumption of water per capita per person is rising with inclining demand. With the fast growing demand our ability to continue normal supply possibly will be curtailed. We need to be mindful of our water sources,'' She warned.
Water conservation campaign in South African province Gauteng is keen as a key step towards alleviating the problem amid biting drought.