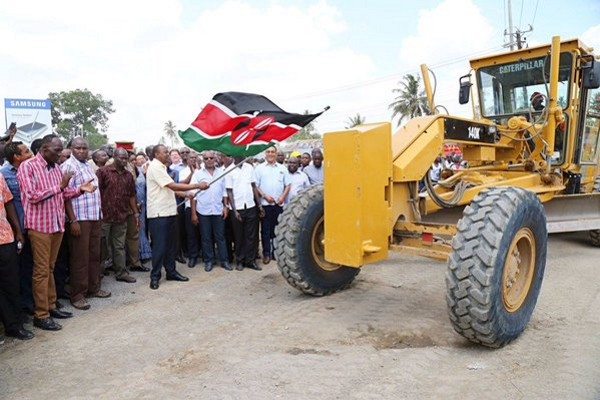 The construction of the US$ 31m Port Reitz/Moi International Airport Access Road in Mombasa, Kenya has finally been launched by President Uhuru Kenyatta and is expected to ease traffic by allowing faster flow of goods.
The project which is being implemented by the Kenya National Highways Authority (KeNHA) and overseen by TradeMark East Africa (TMEA) is being financed by the United Kingdom government and partly by the Kenyan government.
The UK government's Department of International Development financed US $20m and the remaining amount will be chipped in by the Kenyan government.
Frank Matsaert, the TMEA Chief Executive Officer confirmed the news and said that upgrade of the road is a fundamental milestone in increasing access to physical markets and the facilitation of the movement of cargo along the Northern Corridor that serves Uganda, Rwanda, South Sudan and eastern Democratic Republic of Congo.
This initiative is anticipated to raise Mombasa's position as a more efficient logistics hub and also support the expansion of the road to a dual carriageway and improve the existing Port Reitz and Moi International Airport access roads covering 6.4 kilometres in length. The project will also improve traffic movement at intersections, including the installation of traffic lights and grade separated junctions.
According to a report from TMEA the single largest project currently underway at the Port of Mombasa is the construction of a new container terminal at Kipevu West. The project, which is scheduled to be completed in August 2016, is expected to greatly improve the capacity and efficiency of the Port by bringing on board an extra 19,940 passenger car units (CPU) capacity by 2018 being an increase from the 2,874 CPU recorded in 2014.
The reports also states that the project will expand Port Reitz Road from the Port Reitz Hospital Gate, (located approximately 200m past the Kipevu West Terminal access road) to the junction with the Airport Road, and the Moi International Airport Road from Changamwe roundabout.
The Port Reitz/Moi International Airport Access Road development project sends a clear message to both local and foreign investors, that Kenya is open to business and willing to improve the business environment to make it as conducive as possible.