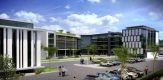 South Africa's property developer Baywest City is set to embark on construction of expansive mega projects in South Africa that will see five major developments, to a tune of more than R1.2 billions rolled out this year. In addition to this, the developer intends to invest in a 228-unit residential development.
This will comprise among others, an 8000m2Green-rated office park, an international hotel, two restaurants and a lifestyle centre sporting, a virgin Active gym. This is scheduled to take place over the next two years.
The local economy is set to benefit immensely from this project which is modeled on Cape Town's City and Durban's Gateway. This will be possible through several direct and indirect jobs created and shaping a business environment, retail and lifestyle hub in the Western suburbs along the N2 freeway. According to Baywest Managing Director Gavin Blows, their goal is to develop the precinct into a secure, up to -date multi-purpose environment.
"All the developments will ultimately complement each other and create one of the fastest-growing nodes in Port Elizabeth."
He also said that the construction of the residential village, which will have a total built area totaling to 46000m2 would kick off in the second half of this year. According to research, there was a high demand for A-grade office space in the western hubs. The area which houses most of the staff and managers will make it easier for them to get in and out compared to other nodes. It is projected that a space ranging from 10m2 to an entire building will be occupied by businesses.
"Most staff and managers reside this side of town and getting in and out of Baywest is far easier than other nodes. Businesses will be able to occupy space ranging from 150 m2 to an entire building.
Another three-storey office block with a five-star rating is also under construction and expected to be complete by end of the year and will be the first green-rated commercial building in the Eastern Cape