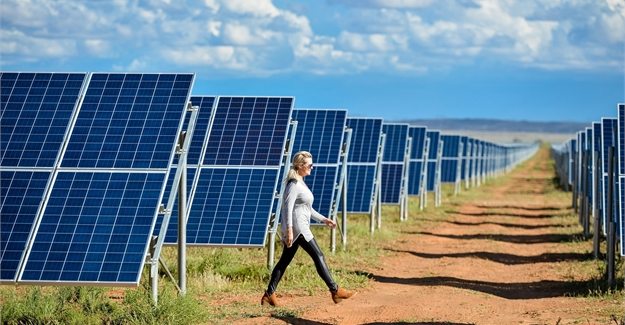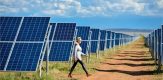 South Africa has unveiled Africa's largest solar farm in in southern hemisphere at De Aar, Northern cape. South Africa's Energy Minister Tina Joemat-Pettersson inaugurated the 175MW solar Capital, the largest solar plant ever completed in the Africa.
The launch is part of a two-phase project with the first phase having a capacity of 85MW while the second phase has a capacity of 90MW. Cumulatively, the facility stands on 473ha with 503942 modules and took 28 months to construct. A total of R2.2bn and R2.6bn was invested in the first and second phase respectively cumulatively making a total investment of R4.8bn
According to the minister, energy consumption in Sub-Saharan Africa has risen by 45% since 2000 due to tremendous economic growth experienced. He said many governments are have stepped up their efforts to tame numerous regulatory and political hindrances that holding back investment in the domestic energy supply and insufficient energy infrastructure that make it hard to better the people's living standards.
The Department of energy has recently stepped up efforts geared bringing a lasting solution to the energy shortage in South Africa through the Renewable Energy Independent Power Producers Procurement (REIPPP) program. This initiative allows foreign investment in renewable energy farms. Through the program, a number of energy facilities have been set up and have contributed in providing electricity to the national grid.
Solar Capital chairman Paschal Phelan, says the launch of the power facility solidly affirms the importance of solar energy in assisting solve the current energy crisis in South Africa. . "The Northern Cape of South Africa has some of the highest irradiation levels in the world, with the location of this facility boasting 2168kWh/m². This allows the abundant sunlight in the region to be converted into green energy to be transferred to the national energy grid."
According to Phelan, South Africa will immensely benefit from the facility as all power generated will be exported to the national grid and will be able to power upto 75000 South African homes annually.
Solar capital has also invested in a number of long-term economic development projects in and around De Aar many of which have impacted positively to the local areas. During its construction, the facility created jobs for 2000 local people and currently 100 people are engaged in the plant's operations and maintenance. R24 million will be spent on community-based economic development programs such as free Wi-Fi for the town of Da Aar, a large community training centre and an arts training and exhibition center