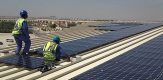 Abu-Dhabi-based Masdar is currently on its second phase of installing solar home systems as part of a project to electrify rural Morocco.
According to officials the project which was include installation of over 20,000 solar systems currently they have installed 9000 and they expect the second phase of the project to be completed on time.
The solar power project is expected to cover over 1000 villages in Morocco and is expected to be completed in a years' time.
The project wa started a year ago when Masdar and Morocco's Office National de l'Electricité et de l'Eau Potable (ONEE) signed a contract for the same.
All of the 290-watt solar home systems are designed, supplied and installed under a project that is being executed by the Masdar Special Projects team.
Along with other local initiatives, the full installation will result in 99% of rural Morocco having energy access by the end of 2017.
According to the chief executive officer of Masdar Mohamed Jameel Al Ramahi the project's pace have been kept and they believe they will end it on time.
"The project has been running smoothly thanks to the corporation of the community and the mature market of Morocco for utility-scale renewable" he added
"The UAE and Masdar are pleased that our partnership with ONEE is realising one of the largest and most innovative solar home installation projects, which is having a transformative impact on hard-to-reach communities throughout the country. " he added
The solar home systems are bringing energy access to those rural areas that still lack access to the national grid.
Each of the installed systems consists of 290-watt solar panels and batteries with sufficient storage capacity for three days, thus ensuring uninterrupted power supply. In addition, the systems include energy-efficient appliances such as LED lamps and a 165 liter refrigerator.