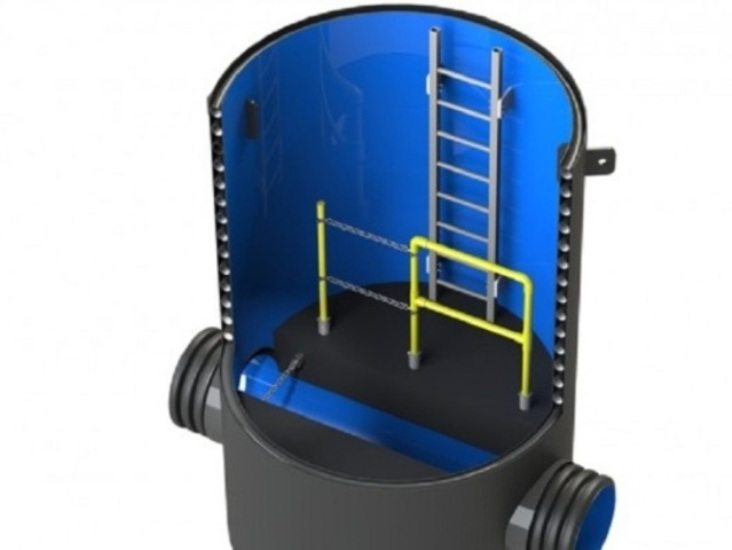 Polypipe is looking to further safeguard contractors and maintenance teams with the introduction of a new range of RIDGISTORMAccess Manhole accessories for its popular Ridgistorm-XL large diameter piping system.
The range of manhole accessories includes Guardrail and Safety Chain Assemblies, both of which can be pre-installed into Polypipe's range of Ridgistorm-XL manholes and chambers.
Designed to prevent site workers from accidentally falling into outflow channels greater than 600mm in diameter, Polypipe's new Guardrail Assembly acts as a vital safety barrier for RIDGISTORMAccess Manholes and chambers greater than 900mm in diameter.
For workers inside manholes, the Safety Chain Assembly acts as a lifeline to prevent workers being swept down outflow pipes. Offering robust 3kN break strength, the Safety Chain Assembly is positioned across the outflow pipe at the end of the channel, offering a crucial point to grasp in the event of emergency.
Along with the obvious health and safety benefits that both accessories offer, installation teams can also benefit from Polypipe's ability to provide engineered solutions from the company's dedicated manufacturing facility, with both accessories able to be pre-fabricated into chambers which are delivered to site as a one-piece modular unit ready for installation.
The introduction of the new range demonstrates Polypipe's commitment to worker safety, and follows the introduction of the company's Ridgistorm-XL Lifting Points. Designed to aid in the safe handling of Ridgistorm-XL chambers when loading, off-loading and installing products on site, Ridgistorm-XL Lifting Points consist of three plastic lugs which are pre-welded by Polypipe's in-house fabrications team to ensure the safe manoeuvring of manholes and chambers up to 2,500kg in weight.
Speaking on the launch of the range, Emma Nicholls, Marketing Manager at Polypipe Civils, said: "Whilst we're always keen to communicate the benefits that our Ridgistorm-XL system offer, particularly those that reduce time and labour costs for our customers, there can be nothing more important than the welfare of workers. As such we're delighted to be adding two excellent products to our Ridgistorm-XL family that we're sure will make our large diameter piping system even more popular.
"From our Ridgistorm-XL Lifting Points to our new manhole safety accessories, we're able to offer reduced health and safety risks throughout the lifetime of our systems. Any time that a worker needs to access the system, such as during maintenance and inspection activities, we want them to feel confident that their safety has been a primary consideration."
The new Ridgistorm-XL Chamber Accessories are available for specification now. For more information please download the Civils and Infrastructure Product Guide from our website http://www.polypipe.com/civils-and-infrastructure .