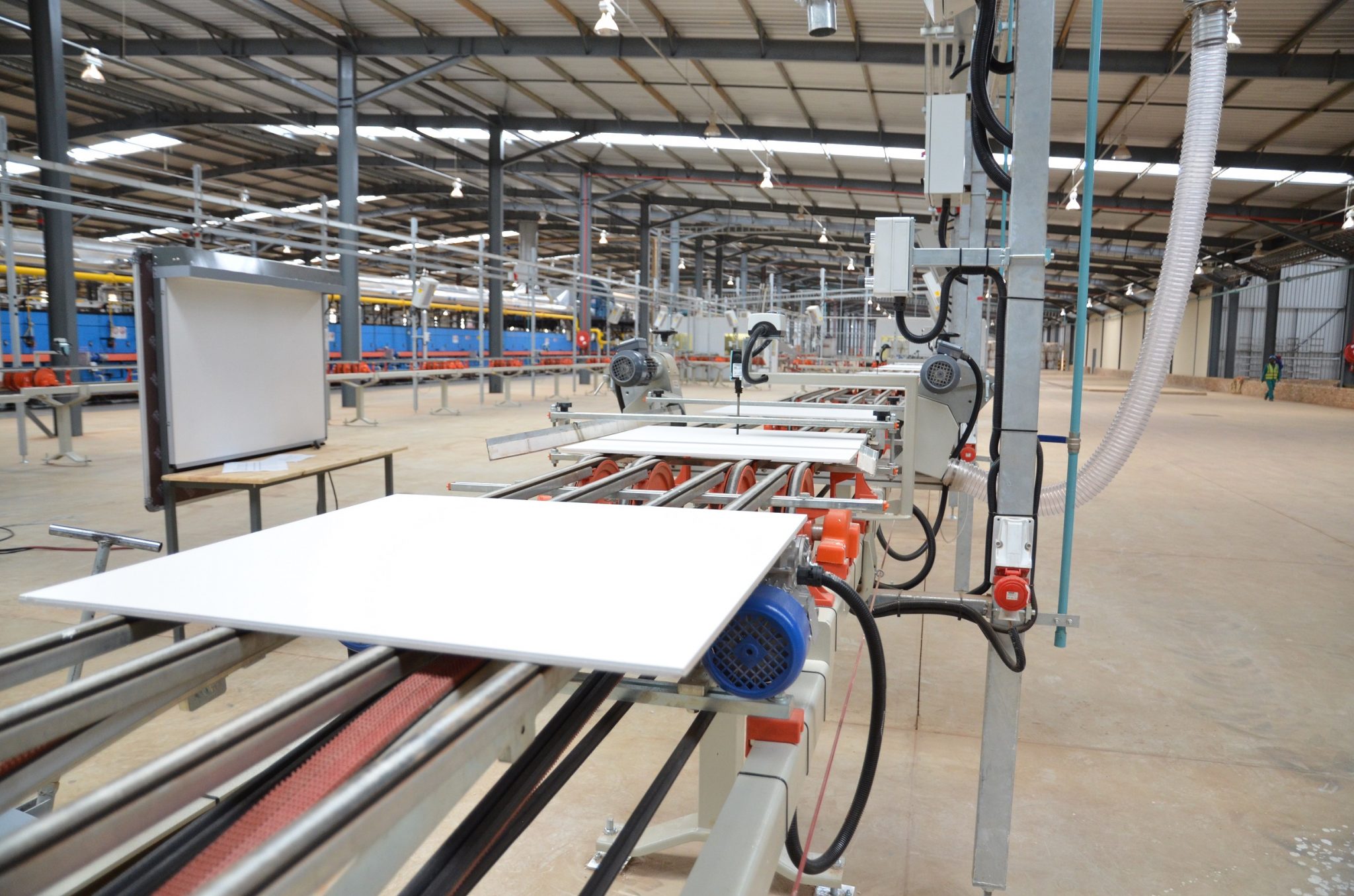 Ceramic Industries, South Africa's leading tile and bathroomware manufacturer, has officially launched its latest state-of-the-art factory, Gryphon, the eighth facility in the Group's manufacturing portfolio.
Situated in Vereeniging, Gauteng, the 35 000m2 tile factory is custom-built to produce large format (600mm x 600mm) white-bodied glazed porcelain tiles.  Utilising environmentally responsible, cutting-edge production technology, the tiles are designed to meet local demand for world-class alternatives to imported product.
The R530 million factory will employ 68 people directly, many sourced from local communities and trained up to meet the exacting operational standards required in the plant.  Commissioned earlier this year, Gryphon is currently in its first phase of operation.  Once fully operational, the factory will produce 8.5 million square metres of tiles per annum.
Ceramic Industries' CEO, Lance Foxcroft says, "We are proud to launch the most technologically advanced and sustainable factory of its kind in Africa, and one which will rival its international peers.
In keeping with the Group's reputation for sustainable innovation in the industry, we have partnered with international suppliers SACMI and SYSTEM, global leaders in equipment design, to build a plant that raises tile manufacturing standards to a new level in this country and facilitates development of contemporary, ground-breaking product ranges. Gryphon will be a point of reference in the market thanks to the technical and aesthetic quality of its products."
Foxcroft adds, "In the process of manufacturing our tiles, low value raw materials undergo beneficiation, culminating in the end-product tile. This is one of the few industries where raw materials from South Africa are beneficiated into the final product within our borders and sold both locally and exported.  By building this facility in South Africa, we not only create direct and downstream employment, but we contribute to improving the balance of trade and the development of the local economy and infrastructure."
In terms of Gryphon's range, Foxcroft says, "Increasingly, South Africans aspire to international fashion trends in tiles, and there has been consistent and growing demand for premium white-body porcelain tiles in the local market.  The unfavourable exchange rate, which has hampered the consistent supply of high quality white-body porcelain tiles, is another compelling rationale for Gryphon's pioneering offering and range."
To meet the wide spectrum of local customer tastes, the stylish, trend-setting tiles will be manufactured in both shiny and matt finishes.  High definition ink jet printing will deliver a range of textured, aesthetically advanced designs.  The tiles will also feature a 'cushion' edge which reduces breakages and sharp edges, facilitating more cost effective, easier installation.  In line with international benchmarks, the water absorption factor is reduced to 1%.  Other key features of the product are its strength and wear- and stain resistance.  The tiles are also easy to clean and maintain.
The quality of each tile will be assured by the latest generation Qualitron imaging machine which uses three high-resolution cameras to identify visible defects and shading imperfections and reject the sub-standard products accordingly. Tough mechanical testing is performed, and infrared and laser sensors ensure that every tile meets strict sizing and planarity specifications. This process is monitored via an integrated electronic Management Information System that relays quality and production information in real time.
Foxcroft adds, "With over 40 years of experience in the South African tile industry we are constantly investigating new ways to introduce innovation in our production processes and simultaneously reduce the carbon footprint of our factories.
Gryphon employs intensive and carefully controlled manufacturing processes which require high forming pressures and firing temperatures, so our commitment to eco-friendly construction practices was critical to offset the impact of increased energy consumption.  Every effort has been made to ensure that the products are of a world-class standard, while simultaneously meeting the highest possible eco-friendly benchmarks."
To achieve this goal, Gryphon strives to minimise consumption of the two key resources used in the production process:  energy and water.  The plant operates state-of-the-art Italian EKO kilns which recover and utilise waste energy to minimise gas consumption and emissions in the firing and drying processes.  Natural lighting, low wattage- and motion sensor lights are also a key feature of the factory.  All process water used in the plant is recovered and re-used in the clay manufacturing processes.
"The launch of Gryphon is an important milestone in Ceramic Industries' history.  We are excited about the impact the products will have on improving the standard and quality of tiles in the local market.  Our initial feedback from customers has been extremely positive, and we look forward to continuing to meet, and surpass, their expectations.  We are also delighted that our investment in this factory will make a difference to the communities in which we operate by employing and developing local people and implementing meaningful social responsibility programmes," concludes Foxcroft.