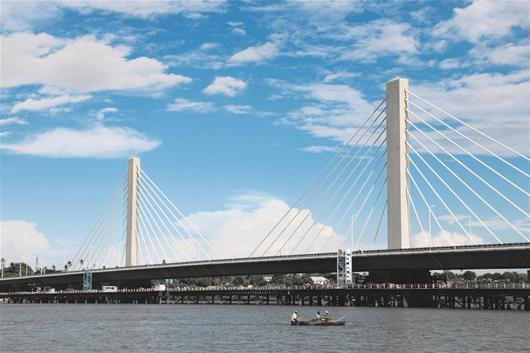 Tanzanian President John Magufuli has officially opened longest cable-stay bridge in East Africa in Kigamboni and proposed it to be named after Nyerere—the Nation's founding president.
In his comments, the president said that although the power of naming national statutes falls under the ministerial capacity, he suggested it would be ideal to name the bridge Nyerere in order to recognize and appreciate his outstanding leadership legacy.
The President also urged the people to protect and take good care of not only the bridge the bridge but also other infrastructures which were constructed using huge amounts of taxpayers' monies.
The longest cable-stay bridge in East Africa has a length of 680 meters and has taken some four years of construction using funds sourced internally under the Public Private Partnership (PPP) in which NSSF contributed 60 per cent while the government contributed the remaining 40 per cent. The construction of the bridge started in February 2012 and constructed by China Railway Jiangchang (T) Limited and China Major Bridge Engineering Company
The longest cable-stay bridge in East Africa offers an alternative quick link to the Kigamboni district. Previously, the Kivukoni ferry provided a quick link between Dar es Salaam CBD and Kigamboni. The bridge comprises of six lanes (three on each direction) together with two pedestrians/cyclists lanes having a width of 2.5 meters (one on each side). The bridge replaces the Kivukoni ferry which has been linking Dar es Salaam CBD and Kigamboni.
President Magufuli added that the sea cross bridge will not only boost the economy of Dar es Salaam but  will also contribute in the growth in GDP Tanzania as whole.
He also praised the National Social Security Fund (NSSF) together with former president Jakaya Mrisho Kikwete for the effort and commitment on the construction of the multi-million Kigamboni Bridge.
The 680 meters long cable-stayed bridge is the third longest bridge in Tanzania after 'Mkapa Bridge', that is close to a kilometer long and Unity Bridge that links Mozambique and Tanzania.